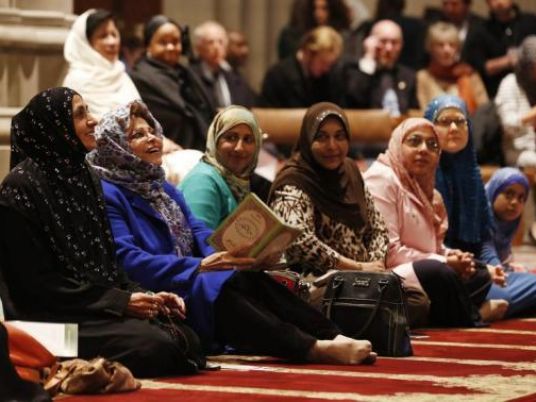 The first Muslim prayer service ever hosted at the National Cathedral, a landmark Christian church in the US capital, was briefly interrupted on Friday by a lone anti-Islamic protester but the religious gathering continued with a theme of tolerance.
The outburst came as dozens of Muslims knelt on prayer rugs below walls of stained glass and stone archways. The protester, a woman from Michigan who declined to give her name, managed to sneak into the tightly secured, invite-only service and interrupt the introduction.
"Jesus Christ is on that cross over there," she yelled. "Get out of our church. Leave our church alone."
The woman was physically removed from the prayer service by a reverend and cathedral police, and the service got underway.
Ebrahim Rasool, the South African ambassador to the United States, who is Muslim, gave a sermon that preached religious freedom and condemned Muslim extremists as a dangerous threat to the world.
"They invade lands, behead journalists, execute civilians and declare war on anyone different to them," he said.
Rasool and the National Cathedral's Reverend Canon Gina Campbell organized the service, with help from the All Dulles Area Muslim Society, Council on American-Islamic Relations, Islamic Society of North America, Muslim Public Affairs Council and The Nation's Mosque.
Campbell welcomed the religious gathering, saying the Washington National Cathedral was "a place of prayer for all people.
"Let us stretch our hearts and let us seek to deepen mercy for we worship the same God," she said.
Since 1907, the Neo-Gothic Episcopal church has been used for state funerals for three presidents, and a number of presidential prayer services. It also has hosted services for noted diplomats and dignitaries.
Organizers said they hoped the service on a Friday, when Muslims traditionally gather for prayers, would foster interfaith understanding and tolerance.
After the service, outside the church, the protester said she was not arrested, and was not harmed in the altercation. She did not explain why she disrupted the service.
"I didn't do it for myself," she said. "I did it for the Lord."
The protester was not alone in denouncing the Muslim prayer service at the National Cathedral. Reverend Franklin Graham, the son of US evangelist Billy Graham who is one of America's foremost Christian leaders, took to his Facebook page on Thursday to criticize the plan to host the gathering.