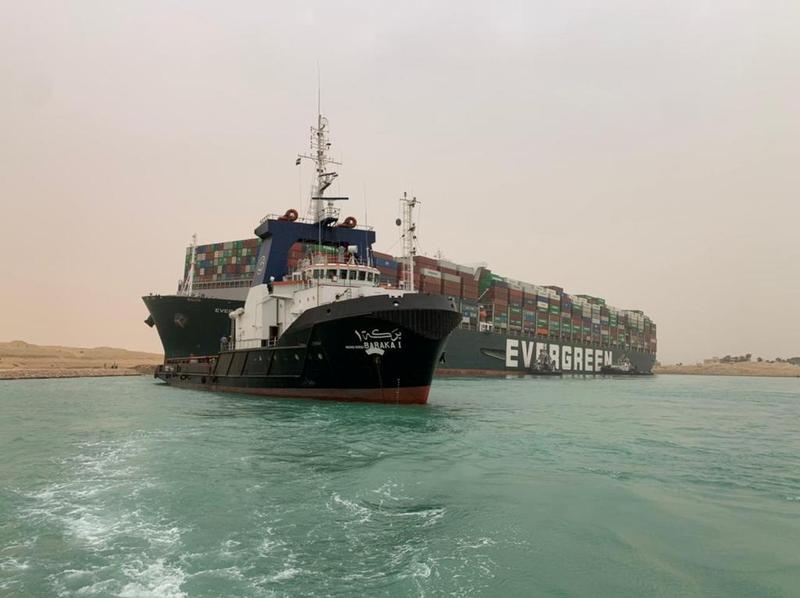 A ship coming from the Mediterranean is now crossing the shipping channel in the central part of the Suez Canal on its way to the Red Sea, after a container ship blocking the canal was partially refloated, an official source at the Suez Canal Authority and an eyewitness said on Wednesday.
Tugboats have been working since early Wednesday morning to completely refloat the ship, which became lodged in the canal after running aground, stopping all traffic from both sides.
There has been no official statement from the Suez Canal Authority regarding whether other ships will be able to pass until the ship is cleared.
Navigation in the Suez Canal was suspended Tuesday evening after the ship became stuck, and video clips of the blockage have spread throughout the internet over the past few hours.
The vessel Ever Given, registered in Panama, was on on a voyage from China to the port of Rotterdam in the Netherlands. As it was passing through the canal on its way to the Mediterranean Sea, it ran aground and became trapped between the canal sides.
Authorities blame strong winds that began early Tuesday morning for the accident. The winds are also the culprit behind massive sandstorms across Egypt.
The canal is one of the most important trade passages in the world, and any prolonged blockage could result in massive consequences for the global supply chain.
IMAGE: A container ship which was hit by strong wind and ran aground is pictured in Suez Canal, Egypt March 24, 2021. SUEZ CANAL AUTHORITY/Handout via REUTERS