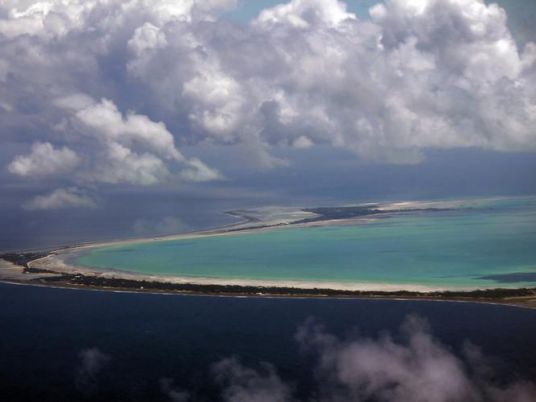 Five men are presumably relieved beyond measure after being rescued from a small aluminum boat with no engine that had been drifting for days in the South Pacific, pretty much in the middle of nowhere.
They had been floating since Wednesday far from land in the South Pacific, according to the US Coast Guard. They were found Saturday, after a search of several days, 184 miles east-northeast of Teraina Island, Kiribati.
Teraina Island is 1,000 miles south of Hawaii. No other major islands are nearby.
The boat was spotted by the crew of an HC-130 Hercules from Coast Guard Air Station Barbers Point, which is on the Hawaiian island of Oahu. The crew of the plane dropped food, water, radios, a location beacon and flares to the men.
The Coast Guard reported the news about the men being found but Petty Officer Tara Molle told CNN Sunday that the Guard does not have their names because the men were picked up by two commercial vessels.
Molle explained that the Coast Guard didn't have the capacity to fly a helicopter where the men were, so the Guard chose to provided food and water and to assist other, closer commercial vessels that carried out the rescue.
The first vessel that picked up the men was called Shourong Harmony, a Panamanian-registered cargo vessel.
The Shourong Harmony then handed the men over to another commercial vessel called Moamoa, the Coast Guard reported.
Molle said she did not know where Moamoa was headed but believed it may be turned toward Kiribati, an island nation in central Ocean Pacific, where it is registered.
Little is known about the men other than that they had left Teraina Island in Kiribati on Monday to go on a fishing trip in a 14-foot boat and failed to return, the Coast Guard said.
The Guard received notification from a rescue coordination center near Fiji on Wednesday that a skiff with five men aboard had not returned.
The Coast Guard said the men were found "in a skiff with no engines, little provisions and no lifesaving equipment."