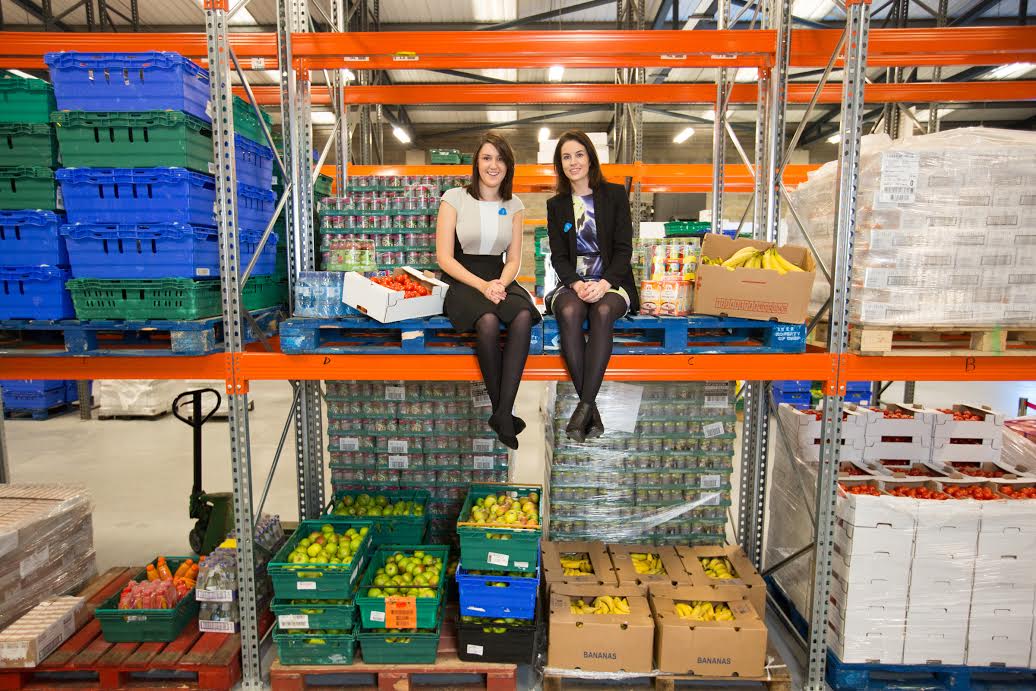 By: Catherine Cleary
A college project to re-distribute food for sale in retail outlets close to sell-by date is a remarkable success in Ireland, so the concept is catching on in Britain with the potential to be adopted throughout the world.
Aoibheann O'Brien remembers that first box of food five years ago. O'Brien and co-founder Iseult Ward picked it up at a farmers' market and dropped it off to a youth services centre in Dublin. "We thought, 'we feel great about this.' It was artisan sausages and really nice sourdough bread and I think there was raw milk as well," O'Brien said.
The delivery was a dummy run for FoodCloud, a college project they set up. It became a tech start-up that connected businesses who had surplus food with charities who needed food. Five years on 8,300 tonnes of food, more than 18 million meals, have been diverted from landfill and FoodCloud employs 30 people tackling food waste from almost 2,000 businesses in Ireland and the UK.
At their new Dublin headquarters the visitor book sits on a stand made from a timber pallet; a nod to the idea of usefulness over waste. The bright offices were painted by prisoners on day release from an open prison. A tech team is working on the ground floor and a call centre team upstairs is fielding calls from UK supermarkets where more than 1,600 branches of Tesco and three Waitrose stores are posting donations of food.
Until late 2016 FoodCloud transactions involved small consignments of food collected by individual charities from the delivery bays of supermarkets and shops to serve the most disadvantaged people. Now at their large warehouse the scale of their new operation, FoodCloud Hubs, is visible. "There's a lot wasted at retail level but there are huge volumes that go to waste before they even get to a supermarket and they're in big bulk," O'Brien explains. So this warehouse and others in Cork and Galway takes pallets of food from Irish businesses including supermarket distribution centres and food producers and deliver it to charities.
Among the vast haul are two pallets of Nutrigrain bars, which would have ended up in landfill or an anaerobic digester because their best before date is looming. In a cold store whole ducks and turkeys from Aldi's Easter range are stored, frozen down to extend their life. It's a long way from that first box of bread, milk and sausages.
O'Brien first got excited about food and sustainability when living in London on a graduate scheme with investment bank JP Morgan. A law and accounting graduate, she returned to Dublin to do a masters degree and decided to volunteer with a small food waste project in the city.
She went to pitch the idea of a surplus food cafe at a social enterprise event and met Trinity College business student Iseult Ward, who loved the idea. "We spotted a gap in the market for this supermarket level surplus," O'Brien says. "That's where we thought it was really interesting because in the same communities there was surplus and scarcity. We thought wouldn't it be amazing if you could bring it all together. You had all these multiples [throwing out food] and then you'd walk down the street and there'd be a sign for raising money for [the charity] St Vincent de Paul."
They quickly learned of the barriers in the modern food system to that simple idea of connecting surplus to scarcity. "There was a guy doing it in Chicago so we spoke to him but when we talked to a more established hub model he said, 'oh retail is very difficult because it's small volumes, end of life. It's more hassle than it's worth in terms of the food. And it's just really tricky to do it.'" But they were undaunted.
Instead, each barrier became a problem to be worked out. They drew up legal contracts so charities agreed to be responsible for the safe delivery of the food once they received it in good condition. The not-for-profit ethos of sharing meant they could tap into other resources. "The guy in Chicago was like 'here use my app.' Guys in London were giving us their contacts."
In October 2013 they got their big break when supermarket group Tesco Ireland came on board. "Until then it would have plodded along with a couple of cafes and bakeries." They quickly went from one to 13 stores. By the following summer they had a national roll out with Tesco and hired their first staff. Now 274 Irish food retailers connect with 303 charities through FoodCloud.
There are still plenty of challenges as FoodCloud grows, not least keeping the operation financially sustainable and getting food out quickly so it doesn't go to waste in their warehouses. But feedback has been encouraging. "Food waste and food poverty have to be part of that sustainable food conversation but that's where we see there's huge potential for Ireland to be a leader in that."
They would like to see all food waste eliminated. In the meantime they try and ensure surplus food gets to people who need it. "There's a lot of energy and loads of people behind it. You can start something but you need a lot of people throwing their weight behind it to keep it going…People felt intuitively that this was a really good thing to do."
For more information, visit https://food.cloud
This article was originally published in The Irish Times and reposted by Egypt Independent as part of our participation in Impact Journalism Day on which 50 of the world's leading newspapers feature 60 social innovators who come up with innovative, beneficial solutions for better access to health and education, respect for the environment, good nutrition, sustainable energy.