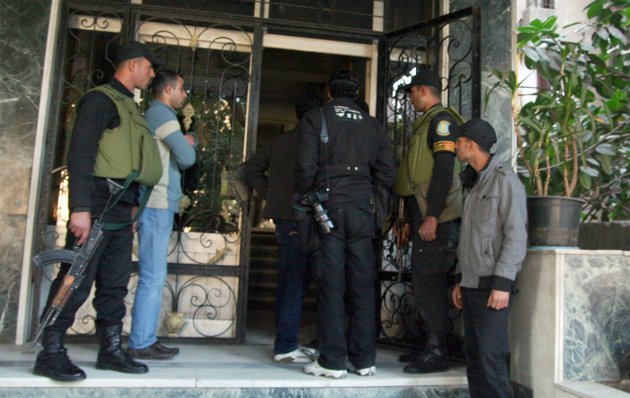 The trial of 43 NGO workers begins tomorrow at the Cairo Criminal Court.
US-Egyptian relations have been sent into a tailspin by the case, as 19 Americans will appear in the dock on Sunday.
US State Department Spokesperson Victoria Nuland said on 16 February that the failure to resolve the situation may have consequences for US aid to Egypt.
"American interlocutors from the president on down have been very clear with Egyptian counterparts that we are concerned that if we cannot resolve this situation it may have an impact on all kinds of other aspects of our relationship with Egypt, including our ability to support them economically," Nuland said.
While Minister of International Cooperation Fayza Abouelnaga has repeatedly asserted that the trial is a purely judicial affair, critics allege that the charges are politically motivated and part of a bigger tug-of-war over US aid to Egypt.
The crimes the defendants have been charged with include founding and running a branch of an international organization without Egyptian government authorization and receiving direct funding from international organizations, a crime punishable by a maximum of five years in prison.
Nancy Okeil, director of Freedom House in Egypt and one of the 43 defendants, told Egypt Independent that the investigation has been marred by a "complete lack of transparency" since it began.
When Okail was first summoned for questioning at the beginning of December she was informed by the policeman who delivered the summons that she was not charged with anything. When she arrived for the first seven-hour questioning session however, Judge Samah Abo Zeid — who, together with Judge Ashraf al-Ashmawy, is leading the investigation — informed her that she had been officially charged.
During the investigation itself her lawyer was not allowed to speak on her behalf and was not given copies of the record of investigation despite repeated requests.
At the same time Okail was being questioned for a second time on 29 December 2011, the offices of Freedom House and other NGOs were raided by public prosecution officials accompanied by armed police. Okail was not informed that her office was being searched as she was questioned.
Okail said that Freedom House submitted its full registration papers to operate in Egypt at the Ministry of Foreign Affairs on 25 December 2011. Four days later, its offices were raided.
Okail added that three Freedom House staff based outside Egypt are on the list of 43 facing trial but have not received official summons. State media however describes them as fugitives.
Despite claims that the case, which is drawing international attention to Egypt, is merely judicial, it is expected to have a set of political implications in terms of relations with the US and, more broadly, the work of civil society in Egypt.