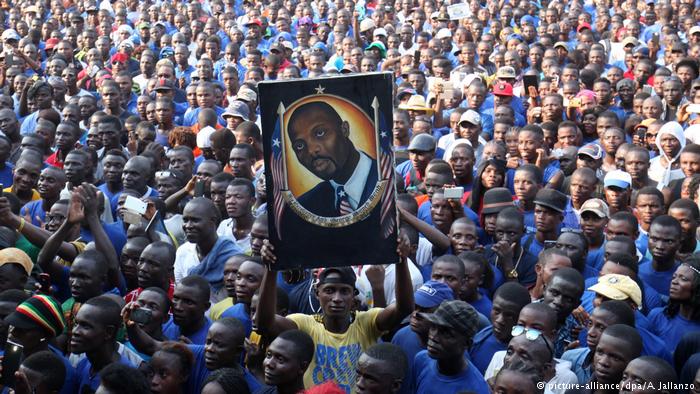 International footballer George Weah has won Liberia's presidential run-off election. The landmark election marks the first democratic transfer of power in the West African state since the end of two civil wars.
International footballer George Weah has defeated Vice President Joseph Boakai to win Liberia's presidential run-off election with 61.5 percent of the vote, based on 98.1 percent of ballots cast, the election commission said on Thursday.
Weah will succeed Ellen Johnson Sirleaf as Liberia's president next month, in what will be the country's first democratic transition since 1944. Sirleaf was Africa's first elected female head of state and in 2011 was jointly awarded the Nobel Peace Prize.
Weah led the first round of voting on October 10, but he failed to get the requisite 50 percent of votes to win.
Turnout for the second round vote stood at 56 percent, the election commission said.
Observers hailed a credible election held without a single major incident of violence, despite weeks of delays caused by legal challenges backed by Boakai's Unity Party against the electoral commission over the conduct of the first round. Many of the complaints appeared to have been addressed in the second round.
United Nations Secretary-General Antonio Guterres hailed the "peaceful conduct" of the second round vote, commending in a statement "the government, political parties and the people of Liberia for the orderly poll."
Rags to pinnacle of power
The 51-year-old Weah starred for top European football teams Paris Saint-Germain, AC Milan and Chelsea and is the only African ever to have won FIFA's World Player of the Year.
As a political novice, he lost to Sirleaf in the second round of voting in the 2005 election. He also lost a bid for vice presidency in 2011. He was elected to Liberia's senate in December 2014.
Having grown up in a slum in the capital, Monrovia, his success against all odds has inspired especially young Liberians who sense that Weah understands what the country needs.
But critics say that he is politically inexperienced and question his choice of Jewel Howard Taylor, the ex-wife of convicted war criminal Charles Taylor, as his vice presidential running mate.
In an interview with DW in October, Weah defended his choice of the Howard Taylor, who is currently a senator.
"She is a Liberian, capable, qualified, and Liberian people love her. I also believe in gender equality, so I think having a woman as my vice president is a good thing," he said.
Troubled history, hope for the future
Liberia is the oldest African republic, founded in 1847 by freed US and Caribbean slaves.
The country is best known for back-to-back civil wars between 1989 and 2003 that left an estimated quarter of a million people dead.
The Sirleaf administration was elected to power in 2005 and brought the country out of the vestiges of war and ruin.
However, critics said she failed to combat corruption and poverty.
Weah has promised to build roads, create jobs and boost development.