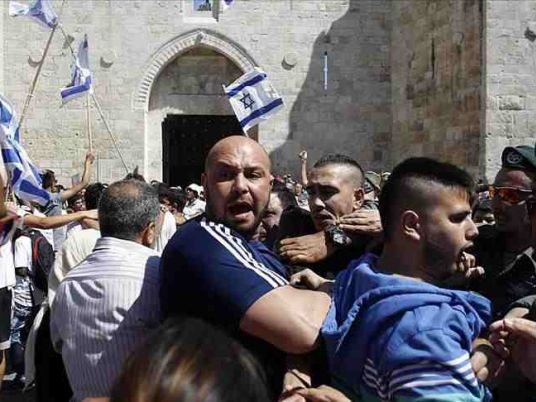 Four Arabs were stabbed in a town in southern Israel on Friday and a Jewish suspect was arrested, police said. The attacks follow a surge in knife violence by Palestinians against Israelis.
The stabbings took place in the town of Dimona and were all were believed to have been carried out by the same suspect, police said.
"As of now there are four stabbings," spokeswoman Luba Samri said, adding that the motive appeared to be "nationalistic".
The first man stabbed was a municipal worker who was moderately wounded by the assailant. Another Arab was stabbed near a school, she said.
Details of the other two stabbings and the condition of the victims were not immediately clear.
The mayor of Dimona, Benny Biton, told Israel Radio the suspect was a resident of the town who was "known to police".
Four Israelis have been killed in stabbings in Jerusalem and a drive-by shooting in the occupied West Bank since last week, and there have been several such attacks by Palestinians within Israel that caused injuries but no fatalities.
Three Palestinians have been shot dead and scores injured in clashes with Israeli security services, triggering fears of a new Palestinian uprising or intifada.
The unrest is largely linked to Muslim agitation over Jewish access to a contested holy site in Jerusalem.
Muslims revere the site as the Noble Sanctuary, home to the al-Aqsa mosque, the third holiest shrine in Islam. Jews refer to it as Temple Mount, site of Judaism's ancient temple and the holiest place in the religion.
Israeli authorities have vowed to crack down on the Palestinian attacks while warning citizens against carrying out reprisals against Arabs.
On Thursday, Jerusalem's mayor and mayors in other cities urged residents who have gun licenses to carry their weapons with them, a call that prompted some politicians to warn against vigilantism.