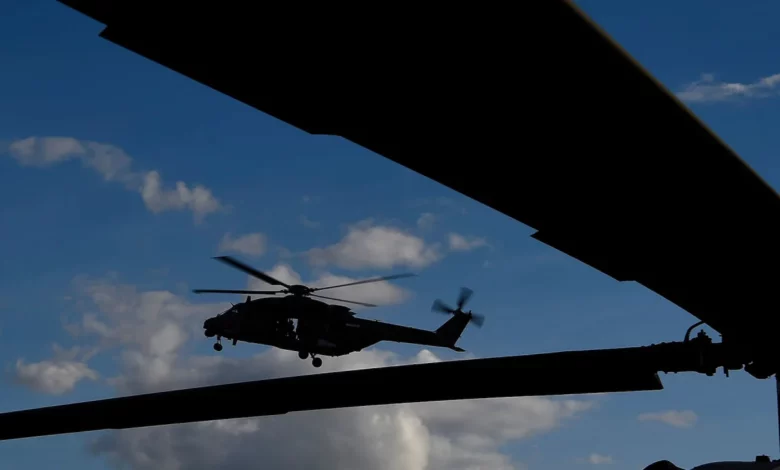 Sydney
CNN
 —  Four Australian defense personnel are missing in the water off the east coast of Australia after they were forced to ditch their Taipan helicopter in the sea during joint wargame drills with the United States late Friday.
Speaking at a press conference in Brisbane on Saturday, Defense Minister Richard Marles said the search was ongoing for the four crew of the Australian Army helicopter.
"We meet this day with a heavy heart. Last night, just after 10.30, an Australian Army helicopter, an MRH-90, ditched in waters close to Hamilton Island. The helicopter was engaging in a two-helicopter mission," Marles said.
"There were four air crew aboard. Because there was another helicopter present, a search and rescue was able to commence immediately. As we speak to you now, the four-air crew are yet to be found. The search and rescue continues," he added.
The aircraft "impacted waters" near the Lindeman Island, off the coast of the state of Queensland. A search operation involving both search and rescue aircraft and sea vessels is under way, according to the Australian Defense Ministry.
Prime Minister Anthony Albanese said their "thoughts are with loved ones of the missing" in a joint statement with his Marles, also the deputy prime minister.
"All Australians hold them in our hearts and we hold onto hope as the search and rescue teams go about their work right now. We have the utmost confidence in their professionalism and skill," it said.
The mission was a part of large-scale military drills involving the United States, known as Talisman Sabre. The drills are held every other year, alternating between the two countries, and also often involve other allied forces.
US Secretary of State Antony Blinken and US Secretary of Defense Lloyd Austin, who are both in Australia, spoke of those missing in the crash.
"We are thinking of the families, their friends, comrades," Blinken said. "For everything they've been doing to the freedom that we share, and that is what unites us more than anything else and we are stepping up with assistance," he added.
Austin said it's "always tough" to encounter accidents in training. "But the reason that we trained to such high standards is so that we can be successful and we can protect lives when we are called to answer any kind of crisis," he said.
The exercises have been paused to allow all participants "regardless of their nation, to reach out and let their families know what is going on," Talisman Sabre Exercise Director Brigadier Damien Hill said at the Brisbane press conference.
Marles said the families of the four-missing crew "have been notified of this incident and our hopes and our thoughts are very much with the air crew and their families. Our hopes are very much with the efforts of the search and rescue crews as they go about their work right now.
Friday's crash is the second time this year the Australian Army has been forced to ditch an MRH-90 Taipan into the sea. Two injuries resulted from the previous incident in March, which was put down to engine failure.
In 2019 the Australian government announced it would retire its entire fleet of Airbus-manufactured Taipans years ahead of schedule, describing the Taipans as a "project of concern for the last decade."