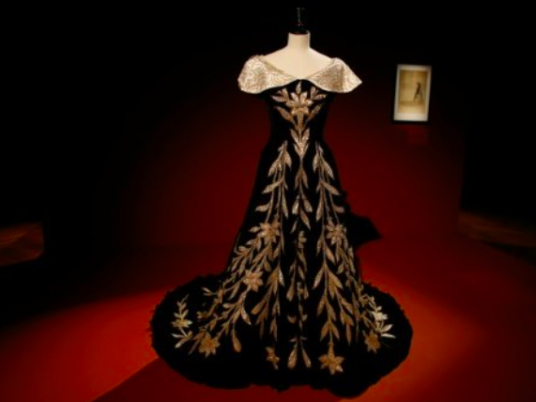 She was France's great high society beauty, who so drove Marcel Proust to distraction that he went to his grave begging for a photograph of her.
The crowned heads of Europe were equally in awe of her, with many dropping in on her Parisian salon before visiting the president at the Elysee Palace.
Now a new exhibition opens the wardrobe door on the 20th century's first great fashion trendsetter, Elisabeth, Countess Greffulhe, the woman Proust immortalised as the beautiful Duchess of Guermantes in his literary masterpiece "A la recherche du temps perdu" ("Remembrance of Things Past").
"All the mystery of her beauty was in her brightness, in her enigma and most of all in her eyes," Proust wrote in 1893 to the poet and dandy Robert de Montesquiou, who despite being her uncle was just as smitten.
And you can see what he was talking about as she peers coquettishly over the top of a Mongolian sheepskin cape in a photograph taken in 1886 in a new show dedicated to her style at Paris' Palais Galliera museum of fashion.
The countess also knew how to make a grand entrance — and also how to leave her public wanting more, never staying very long at any of the balls and grand soirees of belle epoque Paris, where she of course arrived fashionably late.
Every detail of her appearance was noted, said Olivier Saillard, the curator of the show. "I don't know of any wardrobe that was more written of that hers," he said.
Obsessed
Proust was particularly obsessed with one photograph of her taken by Paul Nadar in 1896. It shows her from behind in front of a mirror in a sumptuous dress in black velvet with fleur de lys motifs by Worth, the fashion house that invented haute couture.
Her vast wardrobe was given to the museum by her aristocratic family and more than 40 of her finest dresses and ball gowns by designers such as Lanvin, Fortuny and Babani are on display in the show, which runs until March 20.
They include the rich ceremonial cloak given to her by the last of the Russian tsars, Nicholas II, which she had Jean-Philippe Worth transform into the spectacular cape.
Even if she was fond of the work of certain designers, she would never dream of fraternising with them, never mind become a fan.
"At the time even the great couturiers were seen as no more than suppliers, they were not the superstars that they are today," Saillard said.
"In those days there was no such thing as ready to wear, there was only haute couture, and designers were at the service of (very rich) women" like her.
"She didn't follow fashion, she was made to create it," said Alexandra Bosc, another expert on turn-of-the-century fashion at the museum.
Timeless style
Already dying, Proust wrote to the Countess Greffulhe one last time in 1920 to plead for a photo. "To refuse me once you gave a poor excuse, that a photograph freezes and stops the beauty of women. But isn't it beautiful to catch and make eternal a shining moment?"
She refused, denying him the mystery of her haughty allure to the end.
She had her reasons.
The countess never forgave Proust for using her as a model for the frivolous socialite in his great novel.
While the fictional Duchess of Guermantes was against the Jewish army officer Alfred Dreyfus, wrongly accused of being a Germany spy, the real-time countess took up his cause, and also used her formidable social connections to support the scientist Marie Curie, the first woman to win a Nobel prize.
Such was the hurt, that to the end of her long life, the countess pretended to have barely known Proust.
While there is no doubting her style and charisma, some today wonder if the countess was quite as beautiful as she was made out to be.
Exhibition-goer Maria Fortes was far from convinced. "Her clothes and her shoes and gloves are exquisite, but I think she was rather plain. I thought she would have been a bit more sexy. She is not that amazing. But she must have had something," the Spanish teacher said.
But Parisian Marie-Therese Cardini disagreed, claiming that although ideas about beauty have changed, style was timeless.
"Look at her, she was magnificent. She had real mystique, she knew how to make the very best of herself. That is an art which is very French. It is not about beauty as such, it is about making people desire you, and clearly she knew how to do that."