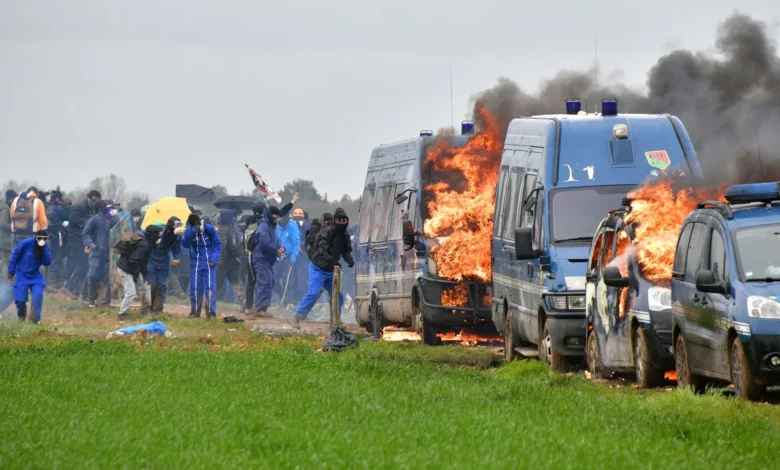 CNN
 —  The French government has decided to dissolve a
climate activist group
, following a series of fiery clashes between demonstrators and police.
The decision to shut down Soulèvements de la Terre (the Earth Uprisings), an umbrella organization of climate activist groups, was taken by the French cabinet following a request by President Emmanuel Macron, government spokesperson Olivier Véran told journalists on Wednesday.
The process to shut down the group started in March, after a protest in western France over proposed so-called "mega water basins" for farm irrigation led to violent clashes with police, CNN affiliate BFMTV reported. Police fired teargas and vehicles were set alight, with serious injuries among both police officers and protesters, according to Reuters.
"It's not the freedoms of protest nor expression that are in question. It's not ideas that are being sanctioned, it's the repeated turn to violence against property, against people, that has occurred again in these last weeks," Véran said. "The use of violence is not legitimate in the rule of law," he added.
This Tuesday, 14 people linked to the group were placed in custody as part of an investigation into a protest action in December 2022 against a major cement manufacturer, BFMTV reported.
Soulèvements de la Terre plans to appeal its dissolution, according to BFMTV. The group also said that the French government's decision could help it garner support.
"We see it as a call to set up a network of resistance, as a lever to help even more people join the next actions of Soulèvements de la Terre," said the group in a press release shared with CNN. "The government claimed to make us disappear, but in reality we are becoming more and more visible," the statement added.
In recent weeks, the movement has organized protests across France, including against the concrete industry, construction of a new rail line with Italy and a new road project in the southwest. This last protest was banned by the government, according to BFMTV.
Soulèvements de la Terre, which said it has 110,000 registered members, confirmed that it has plans for further protests over the summer.
The French organization La Ligue des Droits de l'Homme (the Human Rights League) said the decision to close the group is a worrying sign of a crackdown on environmental protest. "This decision comes in a climate particularly hostile to this environmental movement, attempting to bluntly silence it and its supporters," the organization said in a statement.
Paris' mayor Anne Hidalgo tweeted her support for the movement Tuesday. "Regularly condemned for its climate inaction, the government would do well to not criminalize the commitment of ecologist activists mobilized for the planet," she wrote.
Far-left leader Jean-Luc Mélenchon, who heads the largest left-wing group in the French parliament, also condemned the government's move Tuesday, blaming the interior minister for the violence at environmental protests.