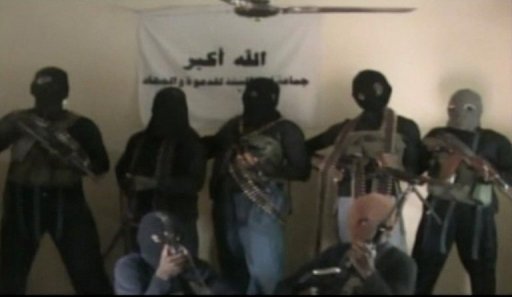 Fresh explosions and gunfire early Tuesday rocked an area near a police station in the Nigerian city of Kano, where shootouts and coordinated attacks claimed by Islamists left at least 185 dead last week.
Some 15 blasts and gunshots were heard coming from the vicinity of a mobile police headquarters. Details were not immediately clear, and police were not available for comment.
"I was awoken from sleep by explosions and gunshots coming from the mobile barracks and police station opposite," one resident said, adding that they had stopped after several minutes.
"It's terrifying. … It's too dangerous to go out, besides there is curfew."
Sporadic gunfire could still be heard after the explosions halted.
A nighttime curfew is in effect in the wake of Friday's attacks in Kano claimed by Islamist group Boko Haram.
The signs of fresh violence came after Nigerian police foiled attacks in the northern city of Kano Monday, discovering 10 bomb-laden cars and hundreds of other unexploded devices from the wave of deadly violence last week.
Clerics said prayers for peace after the attacks on Friday that killed at least 185 people in the country's second-largest city and stoked fresh fears of an all-out civil war in Africa's most populous nation and top oil producer.
President Goodluck Jonathan vowed to beef up security as he grapples with the worst crises of his nine-month tenure — a surge in violence by the Islamist sect Boko Haram blamed for the attacks and mounting social discontent.
Kano, a mainly Muslim city of 4.2 million, was left reeling after bombs were set off and gun battles raged in coordinated strikes after Friday prayers that targeted mainly police buildings, including the police headquarters.
Details began to emerge of the mode of the attacks, with police announcing the discovery of large numbers of explosive devices and that at five of the assailants were suicide bombers.
At least two dozen of the dead were police officers, police commissioner Ibrahim Idris said in a statement, while witness testimony said some of the assailants wore police uniforms.
Idris said police found 10 cars loaded with improvised explosive devices (IEDs) at various sites in Kano, along with about 300 drinks cans, eight powdered milk tins and eight 350-kilogram drums — all loaded with explosives.
According to the latest toll, he said 150 civilians, 29 policemen, three intelligence officers, two immigration officers and a customs officer were killed in Friday's attacks.
Jonathan imposed emergency rule in parts of Nigeria's north on 31 December after a wave of violence blamed on Boko Haram. But Kano, which had escaped the worst of the violence in recent months, was not among the areas covered.
"I will pray to God that we should never relive the catastrophe that resulted in the deaths and maiming in our city," Kano State governor Rabiu Musa Kwankwaso said as about 200 Muslim clerics and political leaders offered peace prayers in Kano.
Nobel literature laureate Wole Soyinka, who has previously warned of the risk of civil war, appealed to fellow Nigerians not to exact revenge.
"We must not accept the agenda of Boko Haram. Do not consider reprisals," Soyinka said. "They want… to embark on a program where neighbors will turn against neighbors."
Political leaders also sought to ensure that the attacks do not spark a wider conflict in Nigeria, which is roughly divided between a mainly Muslim north and predominantly Christian south.
"We want to ensure that a few misguided Nigerians who have been led into this action don't take this country hostage," said Senate president David Mark who traveled to Kano with the speaker of the House of Representatives Aminu Tambuwal.
A purported spokesperson for Boko Haram said the attacks were in response to a refusal by the authorities to release its members from custody.
Some detainees being held at a police station in Kano were thought to have been freed during Friday's attacks.
The group, which has staged a series of increasingly sophisticated and bloody attacks, often targeting Christians, is believed to have a number of factions with differing aims, including some with political links and a hardcore Islamist cell.
President Jonathan has said some Boko Haram members have infiltrated government, including the security services and the executive.
In Kano, around 50 people gathered Monday outside the main hospital's morgue waiting to collect remains of their loved ones for burial.
Most of the recent major attacks blamed on the sect have occurred in the northeast of the country, with many taking place despite the state of emergency.
Boko Haram has also claimed a Christmas Day bombing at a church near the capital Abuja that killed at least 44 people and an August attack against UN headquarters in Abuja that killed 25.