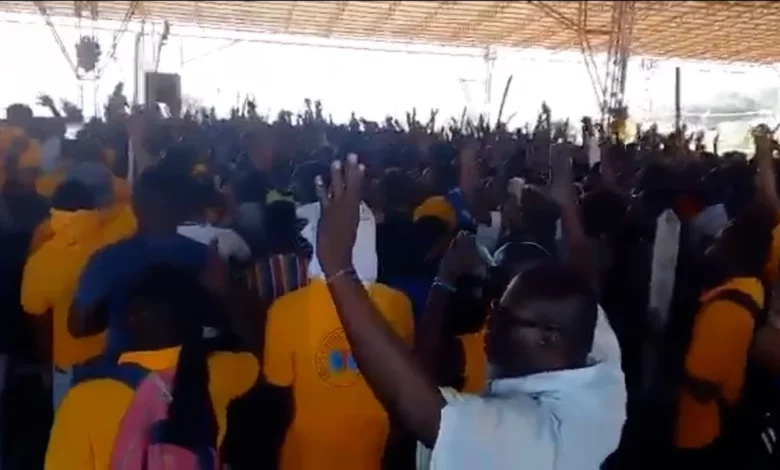 CNN
 —  At least seven people are dead after
a gang opened fire
on a church-led protest in a suburb of Haiti's capital on Saturday, according to local human rights groups.
Hundreds of people gathered by a Christian church leader, marched in Canaan, a northern suburb of capital Port-au-Prince, and rallied against gang violence when a local gang opened fire with machine guns, Marie Yolène Gilles, director of human rights group Fondasyon Je Klere, told CNN.
The number of people killed is likely higher, given the number of parishioners at the march, said Center for Analysis and Research in Human Rights director Gédéon Jean.
"There is a double responsibility to be established: that of the pastor who took these innocent people to the butchery, and especially that of the judicial and police authorities who had not prevented this," Jean said.
An unknown number of people were injured in the shooting and as many as 10 others are believed to have been kidnapped, Jean added.
Videos shared on social media show people marching down the street, many wearing yellow shirts associated with the religious group.
A video shared with CNN by a local human rights group shows bloody bodies on the ground, wearing shirts with the religious group's logo. Additional videos on social media similarly show bodies in the streets wearing that same yellow shirt. CNN cannot independently verify these videos.
CNN has reached out to the Haitian National Police for comment.
Gang violence in Haiti
Waves of crime and unrest have hit Haiti since the assassination of former President Jovenel Moïse in 2021. His successor, Prime Minister Ariel Henry, has struggled to staunch the violence, which is also a major impediment to holding crucial, long-delayed elections in the country.
More than 1,000 people were taken hostage for ransom in the first six months of the year, according to United Nations figures.
Over the past two years, warring gangs in Port-au-Prince have visited terror upon the country's vital port city with rape, torture and killing as they vie for territorial control. Thousands of Haitians have fled their homes, gathering in makeshift encampments across the sprawling capital.
A vigilante movement known as "Bwa Kale" struck back brutally earlier this year, stoning and burning suspected gang members in the street – prompting United Nations Special Representative María Isabel Salvador to warn in a July report the movement had set into motion "a new and alarming cycle of violence."
Hundreds of alleged gang members have been killed by vigilantes across the country, she said.
Conflict in the capital has meanwhile choked the rest of the nation's supply lines, causing the price of food and energy to spike in other parts of Haiti.
CNN's Caitlin Hu contributed to this report.