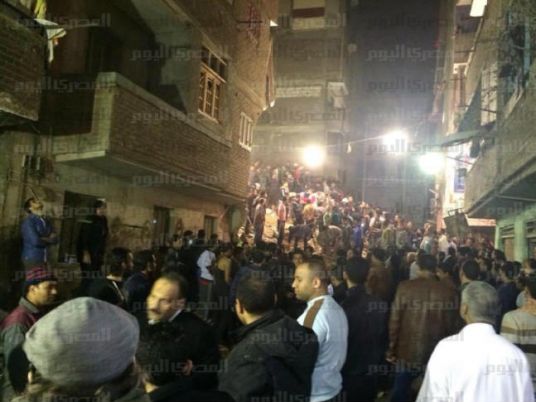 A gas cylinder exploded on Saturday inside a building in the western Alexandrian neighborhood of El-Max, causing the collapse of three buildings and the injury of one person.
A police team from the Interior Ministry and Civil Protection was immediately dispatched to the explosion site.
The team discovered that the blast had happened on the first floor, where a resident (referred to in reports by the initials N.H.) was preparing tea on a stove supplied by a gas canister that exploded.
The resident sustained first and second degree burns all over his body, and two neighboring buildings were extensively damaged by the blast.
The damaged buildings were 30 meters squared on average, two of them two storys, and the other a single floor.
The 52-year-old owner of the building in which the explosion happened was in his apartment on the first floor of the building at the time of the accident. The owner of one of the neighboring buildings, a retired resident of 62, was inside when the explosion began to bring down the residential block. The owner of the third building was reported to be a 39-year-old who works in the agricultural sector.
The owners reccounted how they heard a deafening sound and ran out to investigate, at which point the three buildings collapsed in front of them.
The injured resident was transferred to Karmouz Hospital for medical attention.
Authorities for the Western Alexandrian district of Agami were notified to take the necessary legal measures regarding the explosion, and to provide new homes for those who lost their homes in the explosion. Criminal investigations were notified to investigate the explosion, and to present their findings to the prosecution as soon as possible.
Several building collapses have taken place in Alexandria Governorate over the past few years.
Failure by local authorities to execute demolition orders on time and the unauthorized construction of additional floors are the usual reasons for catastrophic building collapses, which Egypt has witnessed an increasing number of in recent years.
In January 2013, at least 28 people were killed and 12 injured in the collapse of an unlicensed residential building in Mamora, eastern Alexandria. Investigations at the time indicated that the building had been weak and had been developiong cracks in the walls for several years as it was constructed on unsuitable land and was served by an insufficient drainage system.
Edited translation from Al-Masry Al-Youm