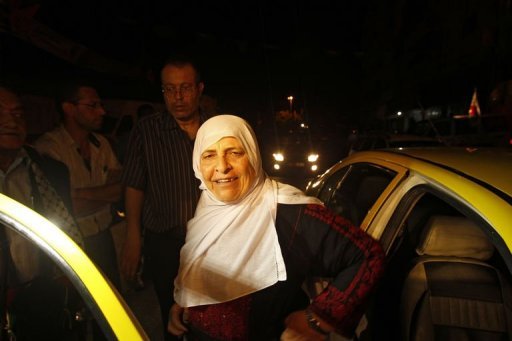 A group of Palestinians from Gaza spent half an hour on Monday visiting relatives held in Israeli prisons for the first time in five years.
Israeli prison services spokesperson Sivan Weizman confirmed that the visit was completed "without incident," and that such trips were now expected to resume on a regular basis, with the next one scheduled in two weeks' time.
The group of 40 relatives, men and women, had gathered before sunrise at the headquarters of the International Committee of the Red Cross in Gaza City.
The organization, which helped facilitate the trip, accompanied the relatives who piled into a bus that ferried them to the Erez border crossing with Israel, some smiling and waving as they set off.
Emotions were running high among the relatives as they waited to begin the two-hour journey to Ramun prison in southern Israel.
Among those crossing was the mother of prisoner Mohamed Hamdiya, who said she was almost overwhelmed with excitement at the thought of seeing her son again.
"You can't imagine my joy at being able to meet my son Mohamed soon, to be able to see his face again after all these years," she told AFP.
Fatima Nashbat was on her way to see her husband Mohamed Jaber for the first time in nearly six years, she said.
"I haven't seen my husband or heard his voice or even news of him for years," she said. "I don't know what the meeting will be like, but of course my excitement is indescribable and I can't wait to see him."
In all, 24 prisoners received relatives from the coastal territory, Weizman said, adding that visits were expected to take place on a weekly basis in the future.
Israel agreed to restart the visits on a trial basis as part of a deal between the prison authorities and Palestinian detainees to end to a mass hunger strike earlier this year.
The prisoners went on strike to demand an easing of the conditions of their detention, including greater access to lawyers and relatives, and an end to solitary confinement.
The Red Cross welcomed Monday's developments and expressed hope the visits would resume on a regular basis.
"This is a first step and we hope that visits by residents of Gaza will resume in full," Juan Pedro Schaerer, head of the ICRC in Israel and the Palestinian territories, said in a statement.
"We have repeatedly called for the resumption of family visits, which are a lifeline for detainees and their families. Under international humanitarian law, Israeli authorities have an obligation to allow the detainees to receive family visits," Schaerer added.