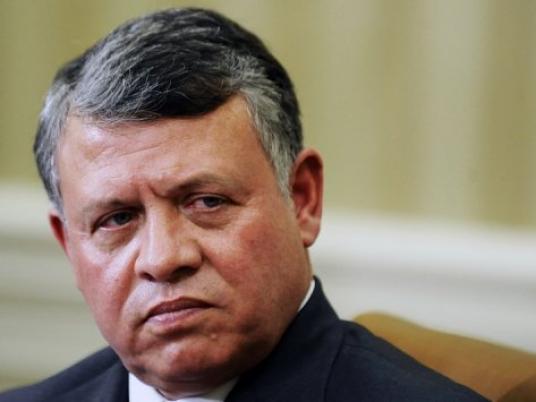 Minister of Manpower and Emigration Khaled al-Azhari said the deportation of Egyptian laborers in Jordan has been resolved following a phone conversation between President Mohamed Morsy and Jordan's King Abdullah II on Tuesday.
The Jordanian authorities have been cracking down and deporting illegal laborers for what they say are security and economic reasons, in accordance with labor conventions and laws.
However, hours after the phone call, sources reportedly close to the king made a statement to the London-based Al-Hayat newspaper contradicting the Egyptian government's narrative and indicating that the king may use the issue of illegal Egyptian laborers as leverage.
The sources told Al-Hayat, speaking on condition of anonymity, that Abdullah blames Morsy for marginalizing the Jordanian role during negotiations for an Israeli-Palestinian cease fire last month and blames Egypt for economic troubles resulting from frequent natural gas cuts to Jordan.
"Amman has ways to send messages to Cairo," the sources close to Abdullah quoted him as saying. "There are 500,000 Egyptians working in Jordan. The kingdom is the only route for exporting Egyptian vegetables to Iraq. Moreover, tens of thousands of Egyptians working in the Gulf take the Nuweiba-Aqaba line for transportation."
Amman wants to address Cairo over what it says is a "reluctance" to export natural gas to Jordan, the king reportedly said.
In a statement earlier Wednesday, Azhari had said, "Directly after the phone conversation, concerned Jordanian authorities were given immediate instructions to stop the deportation of illegal Egyptian laborers in the kingdom."
Azhari added that all Egyptian citizens who had been detained pending deportation were released and handed their passports, and 30 of them returned to Egypt on a ferry.
The minister said he ordered the Egyptian adviser on labor affairs in Jordan to assist workers who may be facing problems and contact the Jordanian Labor Ministry about a mechanism to legalize the status of Egyptian laborers.
There are half a million Egyptians in Jordan, of whom less than 200,000 possess official work permits.