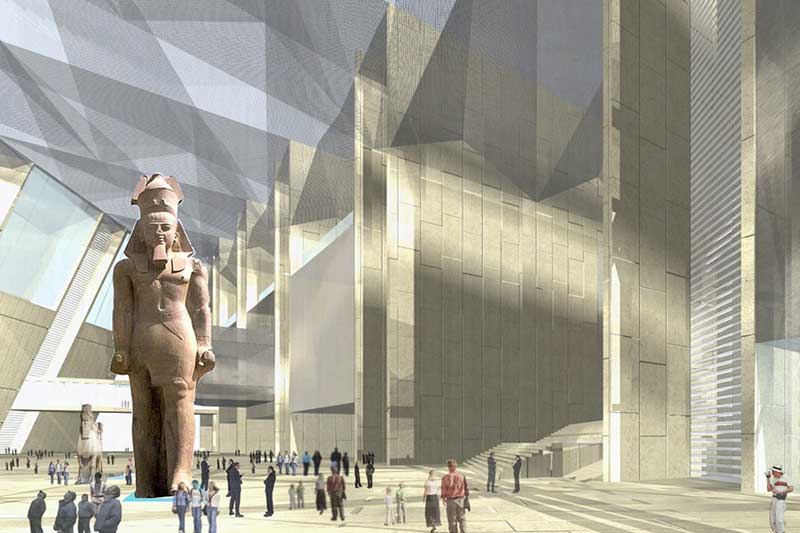 Minister of Antiquities Khaled al-Anani announced that the Grand Egyptian Museum (GEM)'s construction has been completed at 88 percent and is set to open by 2020, during his speech at Helwan University on Monday February 18.
Anani said that the GEM is one of the ministry's largest projects.
Despite the numerous reforms and discoveries publicized in 2018 by the Ministry of Antiquities, the opening of the GEM was not among them. Two dates had been announced in 2018 regarding the museum's opening, and both were postponed.
Anani confirmed that 2020 would witness the museum's long-awaited opening.
Constructed on approximately 500,000 square meters, the mega museum is located nearby the Giza Pyramids. The GEM is expected to be one of the largest museums in the entire world presenting a heritage devoted for a single civilization.
After several years of monument examinations, restoration and transportation, the GEM is expected to house around 100,000 artifacts from various periods of Egypt's rich long history.
Anani said that approximately 20,000 artifacts would be exclusively displayed for the first time.
Breaking new ground in its exhibited artifacts, the museum aims to impress with King Tutankhamun displays that have never been shown before since its unearthing in 1922.
The GEM's General Manager Tarek Tawfik said in a previous interview with The Art Newspaper that the GEM accommodates two 7,000 sqm galleries revealing the king's lifestyle; how he lived, dressed and ate in addition to the complete collection of his precious belongings.
As part of Egypt's efforts to return stolen and smuggled pieces, many of them will be showcased at the GEM.
The museum's entrance tickets fee costs LE 10 for the public and LE 5, while Egyptians above 60 and free school students can access the GEM for free.
Minister of Tourism Rania al-Mashat said that the GEM would play a significant role in reviving tourism as Egypt's main source of income.
Construction of the museum first began in 2006 but slowed down due to the outbreak of January 25th revolution.