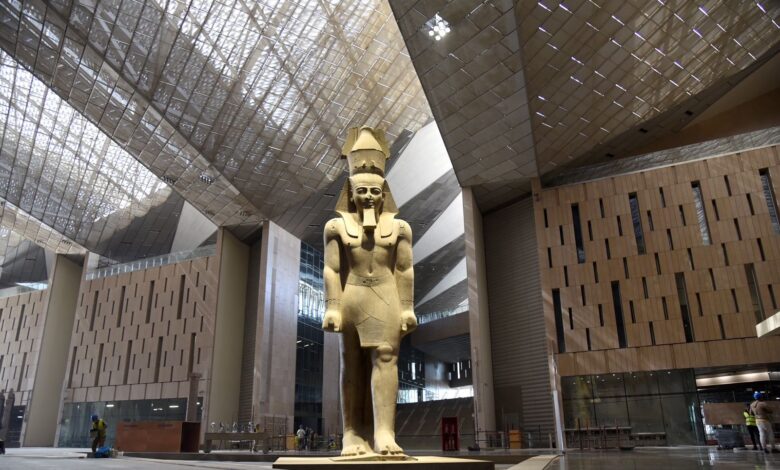 Prime Minister Mostafa Madbouly conducted an inspection tour on Saturday at the Grand Egyptian Museum (GEM) to follow up on its progress as it speeds towards completion.
The Ministry of Tourism and Antiquities announced it has finalized the main building of the museum including service parts alongside its surrounding buildings.
These include the entry and ticket building, the Pyramids Restaurant, a multi-use building, the Hanging Obelisk Square and the surrounding gardens, and the existing and new parking areas and their surrounding gardens.
Construction work and setting up the museum display equipment have concluded, while 91 percent of the larger artifacts have been placed on their bases, and 65 showcases have been installed out of a total of 159 cases for small and medium antiquities.
The museum includes a variety of artifacts from prehistoric times to the Greek and Roman eras.
Khufu Boat Museum
For the first time, the museum will also feature two of King Khufu's ships.
The first boat was transported from its display location in the Giza Pyramids area in August 2021.
The wooden panels and other pieces related to the second ship were moved from inside the hole that was discovered inside it near the pyramid of King Khufu.
It is currently being restored to be displayed with the other boat within the museum.
Construction work in the Khufu Boat Museum is now entirely finished, while interior finishes are 87 percent done.
Egypt's grandest museum
The Egyptian Minister of Tourism and Antiquities, Ahmed Eissa, announced that he anticipates the opening of the GEM to be between October and February.
Eissa said, in press statements, that work is underway to finish the GEM, as well as the area surrounding the museum.
He added that once work is completed, the project will be presented to President Abdel Fattah al-Sisi to set the date for the official opening.
Constructed on approximately 500,000 square meters, the new GEM is located nearby the Giza Pyramids and will house the world's largest antiquities collection belonging to a single culture's heritage.
The GEM is set to showcase 5,000 relics from Tutankhamun's collection as well — including 2,000 artifacts displayed for the first time.
The museum includes huge exhibition halls, and is distinguished by its proximity to the Giza pyramids area and the New Administrative Capital, which makes it a gateway to Egypt's past, present and future.
It is expected to attract about five million tourists.