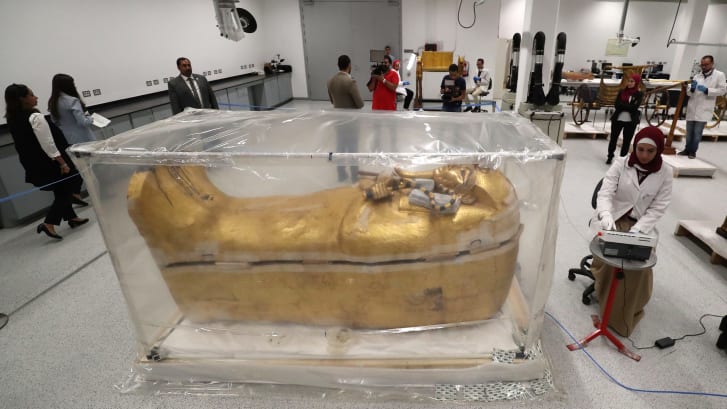 Guinness World Records is currently organizing a ceremony to celebrate Egypt for breaking the world record with a picture of King Tutankhamun's mask created using cups of coffee.
The celebration will be held at the new Grand Egyptian Museum (GEM) on Saturday, December 28, in the external hall, located directly in front of the museum's glass pyramid. Several officials are set to attend, alongside various media personalities from around the world.
Constructed on approximately 500,000 square meters, the mega museum is located near the Giza Pyramids and is expected to be one of the largest museums in the entire world dedicated to showcasing artifacts from a single civilization.
After several years of monument examinations, restoration and transportation of artifacts, the GEM is now expected to house around 100,000 relics from various periods of Egypt's long, rich history.
Approximately 30,000 artifacts will displayed for the first time at the Museum, according to the UK's leading newspaper The Independent.
Breaking new ground, the museum aims to impress with King Tutankhamun exhibits featuring artifacts never before displayed since the tomb was unearthed in 1922.
In a previous interview with The Art Newspaper, the GEM's General Manager Tarek Tawfik said that the museum includes two 7,000 square meter galleries with exhibits that reveal the most intimate details of the famed ancient King's life — how he lived, dressed and ate — in addition to the complete collection of his personal belongings.
Many of the artifacts showcased at the GEM have made it to the new museum as part of Egyptian efforts to return stolen and smuggled artifacts.
Construction of the museum first began in 2006, but progress on the GEM slowed as a result of the January 25th revolution. The museum is expected to open its doors to visitors in 2020.
For her part, former Minister of Tourism Rania al-Mashat has said that the GEM should play a significant role in reviving the tourism sector as Egypt's main source of income.