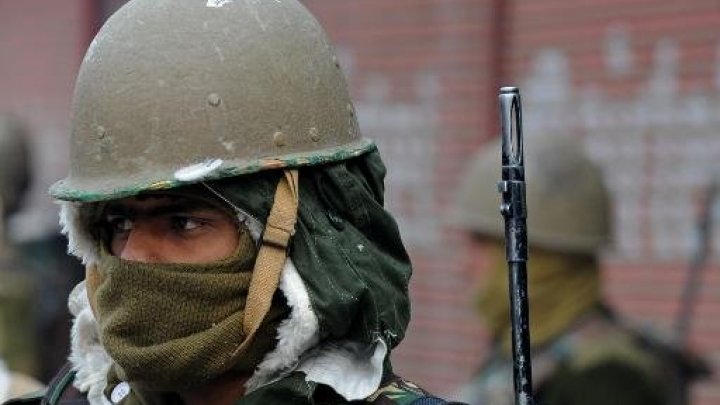 Suspected Islamist gunmen staged a pre-dawn attack on a key Indian air base near the Pakistan border on Saturday with two militants killed in a shootout, officials said, striking a blow to the neighbours' fragile peace process.
At least four gunmen suspected to be from the Pakistan-based Jaish-e-Mohammed Islamist group dressed in army uniforms infiltrated Pathankot air base in northern Punjab state at around 3:30 am (2200 GMT), security officials said.
It comes one week after Prime Minister Narendra Modi paid a surprise visit to Pakistan, the first by an Indian premier in 11 years and threatens to derail talks between the nuclear-armed rivals, who have fought three wars since independence in 1947.
"We want peace but if terrorists carry out attacks on Indian soil we will give them a befitting reply," Indian Home Minister Rajnath Singh said in televised remarks.
Fresh gunfire was again heard at the base at around 0545 GMT as police combed the installation looking for militants still hiding out in buildings, television channels reported.
H. S. Dhillon, a senior provincial police official, told AFP earlier that the operation was still ongoing.
"We are searching the area. Two of the attackers were killed in the initial exchange of gunfire but we can't confirm if more have been killed," he said, in response to reports that four gunmen had been killed.
"Five to six security personnel were injured and they have been evacuated to hospital."
– 'They are heavily armed'
The Pathankot air base houses dozens of fighter jets and is important for its strategic location about 50 kilometres (30 miles) from the Pakistan border.
Local television stations showed helicopters surveying the area, while elite National Security Guard commandos were flown in to flush out the attackers.
A top security official who was at the scene and asked not to be named said security forces had so far prevented the attackers from inflicting major damage at the base.
"They are heavily armed and the attack is aimed to cause maximum damage to the equipment at the station but we have been successful so far," he said.
"We believe they are Jaish-e-Mohammed terrorists."
Jaish-e-Mohammed, which is banned in Pakistan, fights against Indian rule in the divided Himalayan region of Kashmir, where a separatist conflict has claimed up to 100,000 lives.
India blamed the group for a December 2001 attack on the Indian parliament that killed 11 people and which led to a massive military build-up at the border and almost brought the two countries to the brink of war.
Top security officials including India's National Security Adviser Ajit Doval held a meeting in New Delhi in the aftermath of Saturday's attack, media reports said.
Authorities had put the Punjab on high alert on Friday after five gunmen in army fatigues hijacked a car driven by a senior police officer, which was later found abandoned on a highway connecting Pathankot to the restive neighbouring region of Kashmir.
It was not yet clear if there was any link with Saturday's attack.
Fragile peace process
In July, three gunmen dressed in army uniforms opened fire on a bus and then attacked a police station in the nearby Gurdaspur district of Punjab, killing seven people including four policemen.
India blamed Pakistan-based Lashkar-e-Taiba (LeT) militants for that attack.
Since independence from Britain, India and Pakistan have fought three wars over Kashmir, which they both occupy in part and claim in full.
India regularly accuses Pakistan's army of providing covering fire for rebels who infiltrate across the border and then mount attacks in the Indian sector of Kashmir.
And while insurgents frequently target police in the volatile Kashmir region, Punjab, a majority-Sikh state, has largely been spared the violence.
New Delhi suspended all talks with Pakistan after Islamist gunmen attacked the Indian city of Mumbai in November 2008, killing 166 people. The attacks were later found to have been planned from Pakistan.
The two countries agreed to resume a peace process in 2011 but tensions have spiked over the past two years, with cross-border shelling over the disputed border in Kashmir claiming dozens of lives since 2014.
The neighbours recently decided to start a dialogue process, with the foreign secretaries of both countries scheduled to meet in Islamabad this month.