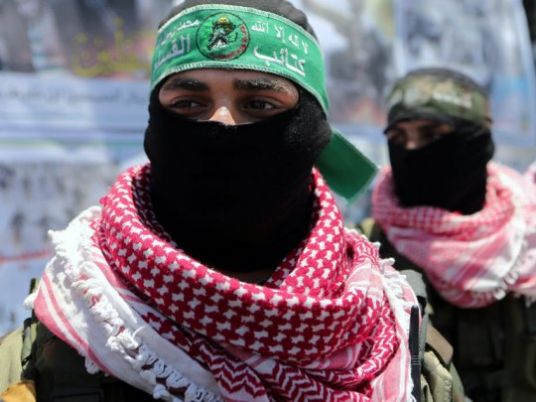 Israel and Palestinians marked one year since last summer's war in Gaza on Wednesday, with Hamas's armed wing boasting of new missiles at a late-night rally and tens of thousands of residents still homeless.
The ceasefire that ended the 50-day war has largely held, but few of the issues that led to the conflict have been resolved and Israel has faced calls to end its blockade of the besieged strip ruled by Islamist movement Hamas.
Several hundred people crowded into a central Gaza City square late Wednesday after the traditional fast-breaking meal during the Muslim holy month of Ramadan for a rally by Hamas's armed wing, the Al-Qassam Brigades.
Brigades members with their faces covered with black keffiyeh scarves stood in front of what appeared to be models of two missiles about three to four meters (9 to 13 feet) in length aboard the bed of a military truck.
Fathers held their children on their shoulders and brigades members lifted their weapons in the air as spokesman Abu Obeida gave a speech, his face covered as usual in a red keffiyeh.
Abu Obeida said two new locally made missiles represented a "qualitative leap" forward, but did not provide details.
Despite the belligerent talk, there appears to be little appetite for conflict on either side for now. Analysts however say failing to address the misery of Gazans who have faced three wars in six years will only sow the seeds for future violence.
A UN official on Wednesday called for an end to the "inexcusable" Israeli blockade of the territory that has helped prevent rebuilding.
"The blockade remains in place and its crippling effect on Gaza is undeniable, inexcusable," Robert Turner, operations director in Gaza for UN relief agency UNRWA, told reporters.
He however referred to a small amount of Gazan goods being allowed through for sale in Israel and the occupied West Bank in recent months as a reason for hope.
Israel says the blockade is necessary to prevent the import of arms and material to make weapons.
'Pay with their blood'
The war took a heavy toll on Gaza, killing 2,251 Palestinians, including more than 500 children. Seventy-three people were killed on the Israeli side, including 67 soldiers.
A UN report released last month said both sides may have committed war crimes during the conflict in and around the impoverished enclave of 1.8 million people.
Israel held a memorial on Monday for its 73 victims killed in the war, where Prime Minister Benjamin Netanyahu defended the military offensive.
"I say to all enemies of Israel — Hamas, Hezbollah, Iran and IS (the Islamic State group) — that those who attempt to attack our people will pay with their blood," he said.
Indirect talks on shoring up the ceasefire and easing Israel's blockade have taken place, but there have been no signs that a deal could be reached anytime soon.
The blockade, as well as a lack of financing from international donors, has been blamed for the slow pace of reconstruction in Gaza, where around 18,000 homes were destroyed or severely damaged.
A split between Hamas and the Palestinian Authority led by president Mahmud Abbas, which runs the Israeli-occupied West Bank, has worsened the situation. Reconciliation attempts have failed to heal the rift.
Meanwhile, Hamas has been challenged by Salafist extremists in Gaza claiming links to the Islamic State jihadist group and who have taken credit for recent rocket fire.
Last year's war was sparked in part by the abduction and murder of three young Israelis near a Jewish settlement in the West Bank.
The kidnapping triggered a massive manhunt in which hundreds of Palestinians were arrested and at least five killed.
It also led to the grisly revenge killing of a 16-year-old Palestinian, snatched in east Jerusalem and burned alive by Israelis.
A surge in rocket fire from Gaza into Israel followed, and Israel launched its offensive on July 8. A ground offensive began on July 17.
Air and naval bombardments on the coastal strip continued until an Egyptian-brokered truce was reached on August 26.
Israel's aims in the war were to stop the rocket fire and destroy tunnels used by Palestinian militants to carry out attacks.
But rocket fire has started up again — although sporadically and not claimed by Hamas — and militants in Gaza have rebuilt tunnels.
Many Gazans now live among the ruins of their former homes.
Atef Al-Zaza, a 49-year-old father of 12, worked to rebuild his house on Wednesday after Israeli strikes completely destroyed it last year.
His family along with the families of his seven brothers had lived on the building's four floors. One of his brothers and a nephew were wounded by shelling.
"This is the worst year of my life," he said, destruction surrounding him.