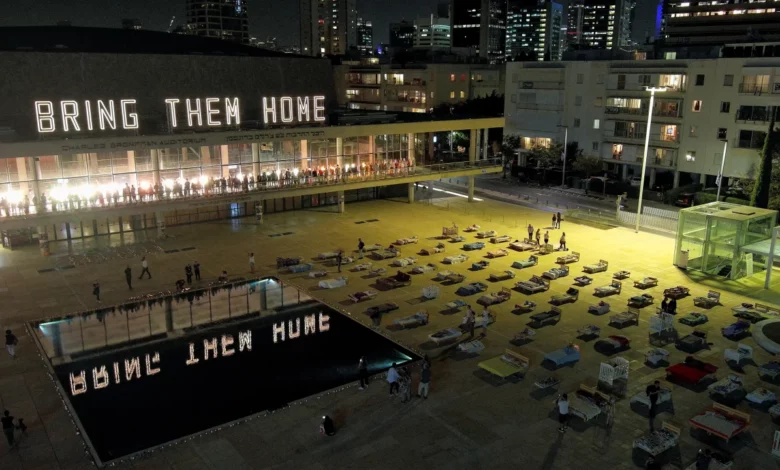 Hamas has demanded that Israel stop flying surveillance drones over Gaza as part of its request that Israel pause its military operations in exchange for freeing hostages held by the terrorist group, according to two Israeli officials and a third source familiar with the ongoing negotiations.
While Israel could pause its military operations for as long as several days to allow for scores of hostages to be released, the sources suggested it is unlikely to accept the drone request since it would mean losing track of the movements of Hamas operatives, including any efforts to move the hostages within the Gaza strip.
The demand by Hamas about drone overflights has not been previously reported and with the intense discussions continuing, it's unclear whether it remains on the table or has already been formally rejected by Israel and tabled as a part of the negotiations.
A spokesperson for the Israeli embassy in Washington declined to comment on Friday.
The Israeli military has been flying drones in the skies over Gaza for hours on end virtually every day during their military operation, using them as a primary means of surveillance to monitor the battlefield.
Throughout the negotiations Israel has been balancing its urgent desire to get hostages freed with concerns Hamas would only exploit any pause to stifle Israel's military advantage and regroup.
A pause in the fighting that also requires Israel to keep its drones out of Gaza's airspace would deny the IDF one of its most important ways to observe Hamas movements from above. It could allow Hamas to reposition its fighters before the ceasefire expires with Israeli troops exposed on the ground, and it would offer Hamas a window to reshuffle the hiding locations for hostages.
The Pentagon has also been flying American surveillance drones over Gaza in its support of Israel's efforts to find the hostages, which includes an estimated 10 Americans. US officials said the American intelligence being gathered is not being used to conduct lethal strikes.
The negotiating parties – Israel, Hamas and the US, with Qatar mediating between them – continue to grind away, as they try to reach an agreement on a number of sticking points. These include how many days a potential pause in fighting would last and the number of hostages that would be released, according to sources familiar with the talks.
On Friday, President Joe Biden spoke with Qatar's leader, Emir Tamim bin Hamad Al Thani, according to a person familiar with the call. Qatar has hosted hostage talks that have included the heads of Israeli and US intelligence. It was the second call between the two men this week.
The hostages expected to be released first are women and children. Hamas has also asked for women and children in Israeli prisons to be freed at the same time. Other demands made by Hamas during the negotiations are more aid and fuel into Gaza, sources say, as well as allowing Palestinians who have fled south for safety to return to northern Gaza, where Israel now has control.
"It's closer, but not completed," the source said. They cautioned that there was no guarantee of a breakthrough, and that a deal – if it were to come to fruition – was still likely days away.
Israel's National Security Council chairman Tzachi Hanegbi said Friday that Israel has been facing "heavy international pressure" to declare a ceasefire and humanitarian pauses in Gaza independent of ANY hostage release, calling those demands impossible.
"When we know that the hostages can be freed, and not in a manipulative way or for Hamas's PR purposes, but rather a massive release of our hostages — only then will we agree to a ceasefire. And even then, it will be very short," Hanegbi said.
Senior Biden administration officials including National Security Adviser Jake Sullivan, NSC Middle East coordinator Brett McGurk, and CIA Director Bill Burns have been engaged "almost hourly" on the efforts to get the hostages out of Gaza, sources said. McGurk is currently in the Middle East for a multi-country trip aimed in part at making progress on releasing the hostages.
The process of struggling to get the hostages out of Gaza was described to CNN as deeply emotional, intense and challenging – and even more so in recent days as a deal appeared increasingly within reach.
"Five to six times a day, I'm working on how I can be helpful in getting the hostages released and have a period of time where there's a pause long enough to let that happen," Biden said on Wednesday night.
CNN's Tamar Michaelis contributed to this report.