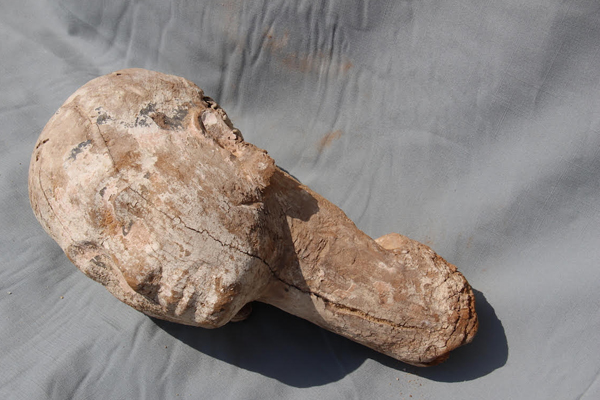 A French-Swiss archaeological team have unearthed the head of a wooden statue of Queen Ankhnespepy II (6th Dynasty, Old Kingdom, around 2350 BC), near her pyramid in the Saqqara area in Giza, the Ministry of Antiquities said in a statement.
Mostafa Waziri, secretary-general of the Supreme Council of Antiquities, said that the head is of almost-human proportions, and is around 30cm high. The ears are decorated with wooden earrings.
Head of the Geneva University mission, Professor Philippe Collombert, said that the head was found in a disturbed layer to the east of the queen's pyramid near the area where the pyramidion was uncovered earlier this week.
The mission has uncovered the upper part of a granite obelisk that may belong to the queen's funerary temple, as well as the pyramidion of what may be an undiscovered satellite pyramid.
Collombert added that the head is not in good condition and will be subjected to restoration and documentation.
"It is a promising area that could reveal more of its secrets soon," Waziri said, adding that the mission is to continue its excavations in an attempt to discover the satellite pyramid and the rest of her funerary complex and collection.