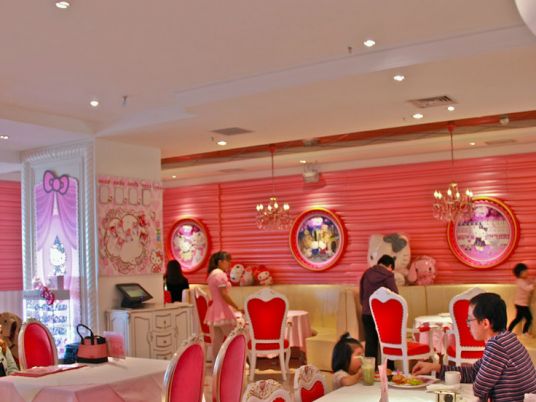 Attention Hello Kitty fans: Your favorite feline, whiskered, cartoon (non-cat) character now has her own restaurant in Hong Kong.
At the recently opened Hello Kitty Chinese Cuisine restaurant in Kowloon, fans can order 37 menu items that bear the character's trademark bow, whiskers, ears and moon-shaped face, reports Time magazine.
After years of negotiating with Sanrio, the Japanese company that officially owns the brand, restaurant owner Man Kwong won the rights to open a Hello Kitty-themed restaurant this year for the legions of fans in Hong Kong.
Favorite dim sum items like dumplings and steamed buns are dressed in pink bowties dyed using beetroot juice, while her beady black eyes are created using squid ink.
Nests of noodle baskets shaped in the silhouette of Hello Kitty cradle shrimp and vegetables while stir-fried noodles are adorned with a deep-fried noodle bow and portions of rice are given whiskers, eyes and a green bean or carrot bowtie.
According to Time, every menu item has been tested and approved by Sanrio executives.
Despite celebrating her 40th birthday last year, the ageless Hello Kitty shows no sign of slowing down, gracing airplane fuselages, hotel rooms, cafes and food trucks around the world.
And before you make the mistake of referring to the cartoon as a cat be warned that Sanrio will issue a curt advisory — as it did with an anthropologist last year — reminding fans that Hello Kitty is not a cat, but in fact "…a cheerful and happy little girls with a heart of gold" who lives in the suburbs of London with her parents and twin sister Minny and is five apples high.
For globetrotting fans, Taiwanese airline Eva Air has painted Hello Kitty on a small fleet of Airbus and Boeing aircraft where everything from their boarding cards, soap, foods, toilet paper and even sick bags are likewise emblazoned with the cartoon character.
To help fete her 40th anniversary last year, the Keio Plaza Hotel Tama in Tokyo created two Hello Kitty-themed rooms, while Shibuya Parco launched a Hello Kitty pop-up cafe last winter.
South Korea is already home to a Hello Kitty cafe franchise, and in the US, a roving Hello Kitty-themed food truck has begun hitting the streets of California serving dainty petit-fours and desserts.
The Hello Kitty Chinese Cuisine restaurant opened officially June 1.