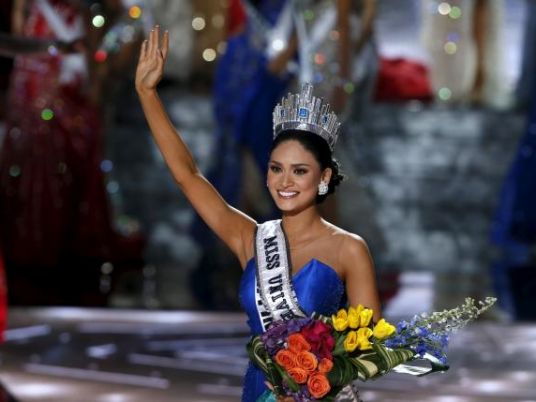 Tens of thousands of people in the beauty pageant-crazed Philippines are set to give newly crowned Miss Universe Pia Alonzo Wurtzbach a heroine's welcome home during a colourful parade through Manila on Monday.
The parade is one of the highlights of a week-long celebration for Wurtzbach who has been praised for her poise during last month's pageant, despite a blunder by event host Steve Harvey who mistakenly announced Miss Colombia as Miss Universe before correcting himself minutes later and giving Wurtzbach the crown.
Wurtzbach, the Philippines' first Miss Universe in 42 years and the third since the pageant started in the 1950s, expressed gratitude for the acclaim just before the parade.
"We've been waiting for this crown for a long time now… I don't think a lot of people know how big of a deal Miss Universe is to the Philippines. It brings a lot of honour and a lot of pride to the country," she told reporters.
"I can't wait to see everybody for the parade that is happening later so I see all the followers of the Miss Universe pageant," she said in remarks broadcast by ABS-CBN television.
Beauty pageant winners in the Philippines become major celebrities, often going on to prestigious careers in show business and modelling.
Wurtzbach, born to a German father and Filipina mother, already had a taste of fame in the Philippines before winning the Miss Universe title, having appeared on TV and in movies for years.
She is due to meet President Benigno Aquino, to whom she was once romantically linked, and receive a medal at the Philippine Congress before attending a concert in her honour.
The 26-year-old model and actress said Sunday ahead of the parade that she was overwhelmed with the rousing welcome so far.
"It's in the parade that I can get a little emotional. I can't wait. I'm just trying to hold back tears," Wurtzbach said.
"It was a long journey coming here. I hope my story can become an inspiration for determination, discipline, faith and hard work," said Wurtzbach, who had tried to be the Philippines' representative to the Miss Universe pageant twice previously before finally breaking through.
The parade will see her board a gigantic float surrounded with crystal spires, modelled on her diamond and sapphire crown, for the parade which will pass through several major thoroughfares before ending at a suburban shopping mall where a massive fireworks display will be held.
Congress is even readying a resolution that would give her a tax exemption on all her Miss Universe winnings and prizes.