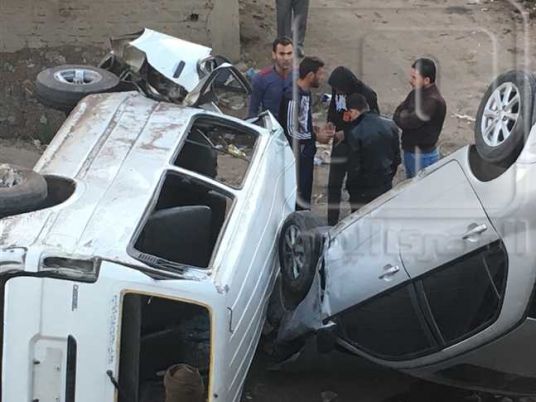 A housewife and her two children were killed while her husband, a counselor in the Ministry of Justice, was injured in a highway accident on the Qena-Sohag desert road on Monday, according to a report from Shorouk news.
Major General Magdy al-Qadi, head of Qena Security Directorate received a notification of the incident, saying that as counselor Mohamed Mahmoud Motawa was driving at the Qena-Sohag desert road, he lost control on the car which turned over.
A fire in the vehicle then killed his wife Eman Abdel Fattah, 35, and his six-year-old and two-year-old daughters.
The family was transferred to Qena General Hospital.
Egypt has a road traffic fatality rate of 42 deaths per 100,000 people, according to the World Health Organization. The majority (48 percent) of those killed are passengers of four-wheeled automobiles, although pedestrians also constitute a significant proportion (20 percent) of these fatalities.
According to a report by the Central Agency for Public Mobilization and Statistics on accidents in 2017, car accidents on roads resulted in 3,747 deaths, 13,998 injuries, and 17,201 damaged vehicles during that year.
The report added that the primary cause of accidents was the human factor, which accounted for 78.9 percent of total accidents, followed by defects in the vehicle at 14 percent and environmental causes (such as road conditions) at two percent of total accidents.