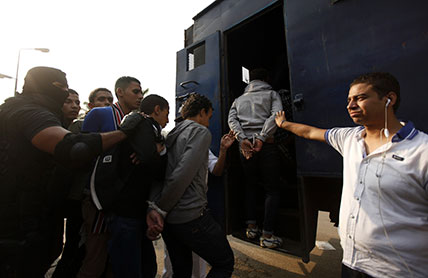 Egyptian President Abdel Fattah al-Sisi has given a "green light" to security forces to routinely torture political detainees, Human Rights Watch (HRW) said in a report published on Wednesday.
The report alleges that the interior ministry has developed an "assembly line" of abuse to collect information and prepare often fabricated, cases.
Officers beat suspects and use electrical shocks and put them in strenuous positions with "almost total impunity", the HRW report says.
In the 63-page report released Wednesday, the Human Rights Watch said Sisi "is pursuing stability at any cost" and has allowed the widespread torture of detainees, despite its illegality outlined in the Egyptian constitution.
Sisi "has effectively given police and national security officers a green light to use torture whenever they please,"said Joe Stork, deputy Middle East director at the New York-based group. "Impunity for the systematic use of torture has left citizens with no hope for justice."
The allegations, the group said, amount to crimes against humanity.
An official at the interior ministry told Al Masry Al-Youm on Wednesday that the HRW report is "one of a series of reports that the organization publishes to incite hatred against Egypt, tarnish its reputation abroad and hold back development efforts."
HRW researchers interviewed 19 former detainees and the family of a 20th detainee who said they were tortured between 2014 and 2016, as well as Egyptian defense and human rights lawyers.
The former detainees alleged that the torture sessions began by security officers using electric shocks on a blindfolded, stripped and handcuffed suspect while slapping and punching them or beating them with sticks and metal bars.
If the suspect failed to give the officers the answers they wanted, the officers increased the power and duration of the electric shocks and almost always shocked the suspect's genitals, they said.
Officers would then hold detainees in two types of tortuous positions for hours at a time and continue to beat, electrocute and interrogate them, they added.
A 29-year-old accountant, who was given the pseudonym "Khaled", told HRW that he was tortured for almost six days in Alexandria in 2015. The man said officers forced him to read a prepared confession, which they filmed, stating that he had burned police cars on the orders of the Brotherhood.
"Khaled" alleged that when he told a prosecutor that he had been tortured, the prosecutor replied that it was none of his business and ordered him to restate the confession or face further abuse.
"You're at their mercy – 'Whatever we say, you're gonna do'. They electrocuted me in my head, testicles, under my armpits. They used to heat water and throw it on you. Every time I lost consciousness, they would throw it on me," he said.
The official from the interior ministry added that the ministry is working to improve the condition of inmates in prisons, with respect to human rights values.
"The ministry has a strategy aimed at improving the prisoners' conditions in various areas be it social, cultural or psychological," he added.
Foreign Affairs Ministry spokesperson Ahmed Abu Zeid attacked Human Rights Watch's report through a phone interview with Masaa DMC, alleging gross human rights violations by Egypt, asserting that the report is politicized and factually incorrect.
Abu Zeid said it is a conspiracy, suggesting the rights group has it out for Egypt and illegally receives funding from unspecified foreign governments.
According to the report, in the past four years, more than 1,000 protesters have been killed in clashes with security forces, at least 60,000 people are reported to have been arrested or charged, hundreds have been handed preliminary death sentences, and hundreds more have gone missing in apparent forced disappearances.
Egyptian security services closed the organization's offices in the country after it was allegedly involved in the preparation and publication of reports that lead to Egypt's "destabilization."