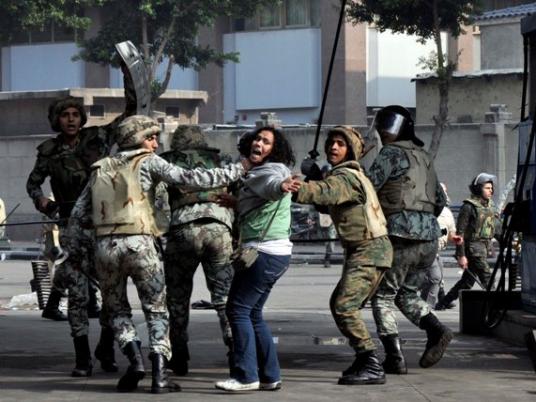 The Arabic Network for Human Rights Information (ANHRI) on Wednesday accused the ruling military junta of adopting the tactics of deposed President Hosni Mubarak during its recent escalation of attacks on freedom of expression.
In a statement issued Wednesday night, the ANHRI said that the ruling Supreme Council of the Armed Forces (SCAF) has adopted many methods of the Mubarak regime, including alleging illegal acts to justify repression.
Egyptian police on Tuesday detained four activists from the April 6 Youth Movement, which played a key role in the original anti-Mubarak uprising. They were detained on Tuesday while hanging up posters that contrasted heroic images of soldiers from the 1973 war with Israel with pictures of troops beating women in Cairo during protests last month. The ANHRI said these arrests were part of a wider effort to stamp out the revolutionary protest movement.
The South Cairo public prosecution on Wednesday released April 6 member Hassan Hafez, but extended the detention of the three other detained members.
The ANHRI said Egyptian authorities pressured internet and social networking activists on Wednesday night to cancel a tweet symposium. The ANHRI did not give details about the type of pressure that the activists faced, but noted that they moved the location of the symposium from the Goethe Institute's Tahrir Lounge to the Qasr al-Nil Street sidewalk outside the Merit Publishing House in downtown Cairo.
The network went on to say that "a number of National Democratic Party remnants that support Mubarak have formed militia-like groups of thugs that attack those involved in the ongoing kazeboon ("liars") campaign, which aims to expose the lies of the Egyptian authorities against peaceful demonstrators.
"The SCAF is exercising the same methods by using public prosecution to restrict freedom of expression," continued the ANHRI statement.
"It's about time for the SCAF to understand that the Egyptian people are determined to defend their legitimate right to build a state based on laws, justice, democracy and human dignity, and that they will never back down from this objective."