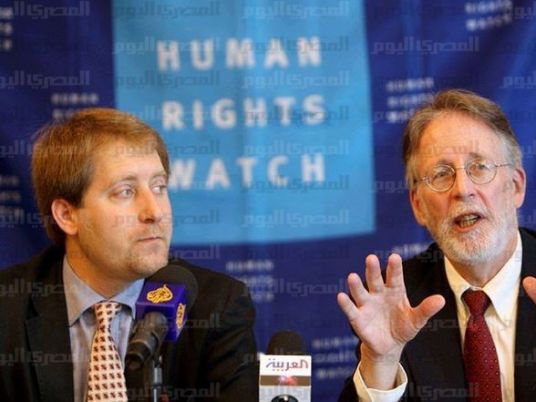 The prosecution's evidence in a trial this month of 51 alleged Muslim Brotherhood supporters in Egypt relied on the testimony of one police officer, Human Rights Watch said on Sunday.
HRW said the prosecution had presented little evidence to show the defendants did anything other than spread news about a mass sit-in in Rabaa square in 2013 and organise peaceful protests.
The court on April 11 had condemned 14 men to death and 37 others to a life sentence for their actions in opposition to the ousting of Islamist president Mohamed Mursi in 2013 by the military under Abdel Fattah al-Sisi, who is now president.
HRW's criticism of Egypt's judiciary comes two days before a separate trial involving Mursi in which he could face a possible death sentence.
Since taking office in 2014, Sisi has identified Mursi's Muslim Brotherhood as a threat to national security. He has described the outlawed Brotherhood as part of a network of violent Islamist groups that pose an threat to the Arab world and the West.
The Brotherhood denies the allegations and says it is a peaceful movement determined to reverse a military coup that ousted Mursi.
Egyptian courts have sentenced hundreds of alleged Brotherhood supporters to death in mass trials.
The charges in last week's trial ranged from publishing false news to planning to spread chaos. Those sentenced to death included Mohamed Badie, leader of the Brotherhood.
The court also gave a life term to Mohamed Soltan, a U.S.-Egyptian citizen, in a decision condemned by the White House. The sentences can be appealed.
"Prosecutors presented no evidence other than testimony from a police major in the National Security Sector of the Interior Ministry to support their accusation that the defendants planned to use violence to overthrow the government," HRW said.
It cited a 107-page government file which it said it had verified with a lawyer on the defence team. HRW did not monitor the trial.
A foreign ministry spokesman rejected the HRW statement as "completely wrong again" and said Egypt had a fully independent judicial system with an appeals process that was open to all.
"Nobody can interfere in the work of the judiciary. The whole judicial process and the due process is guaranteed for all accused," Badr Abdelatty said.
"We have to be a bit more serious, a bit more objective," he said, responding to the criticisms.