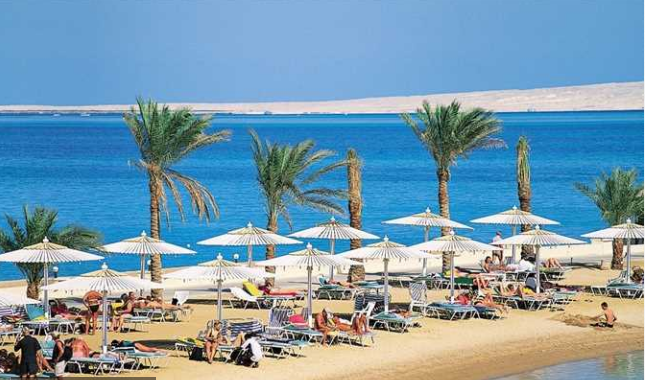 The Hurghada and Marsa Alam airports on Sunday welcomed five tourist flights coming in from Europe, as tourist traffic steadily resumes in the aftermath of the global coronavirus air lockdown.
The Hurghada International Airport received three flights from Switzerland, France and the Czech Republic.
The first of these was the EasyJet flight from Geneva, Switzerland carrying 145 passengers on board, while the second flight came from Paris with 163 passengers on board and the third was an AirCairo flight coming from the Czech capital of Prague with 115 passengers on board.
The Marsa Alam International Airport received FlyEgypt's tourist flights from Paris, carrying 97 passengers on board. The airport also received its first Ukrainian International Airlines flight, carrying 128 tourists.
Water was sprayed to celebrate the aircraft's reception while the public relations team at the two airports gave flowers and souvenirs to the tourists.
All  precautionary and preventive measures were applied, alongside ensuring that social distancing was adhered to in order to preserve the safety and health of travelers and airport workers.
Egypt has experienced a slump in tourism since the onset of the coronavirus pandemic. The country's Ministry of Tourism and Antiquities, in cooperation with the Ministry of Aviation, has launched several campaigns to revive the industry.
Egypt reopened its borders for tourism on July 1, and more foreign countries are resuming flights to and from the country each day, including Switzerland, Russia, and France.
On September 1, all archaeological sites and museums in the country reopened, and Upper Egypt's famous Nile cruises resumed operations.