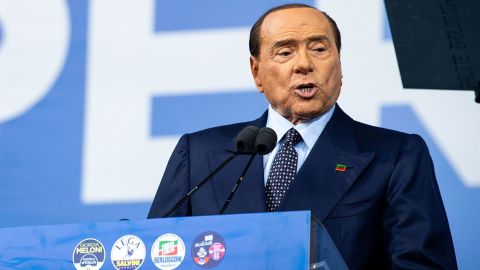 Former Italian Prime Minister Silvio Berlusconi sparked controversy this week when audio released by Italian news agency LaPresse revealed the 86-year-old speaking about his "re-established" relationship with Russian President Vladimir Putin.
Berlusconi says in the audio that Putin sent him 20 bottles of vodka and a "very sweet letter" on his birthday last month.
His office confirmed with CNN on Thursday that the clips were authentic — apparently having been secretly recorded during a meeting of Berlusconi's Forza Italia party in the parliamentary chamber on Tuesday.
"I sent him bottles of Lambrusco (Italian sparkling wine) and an equally sweet letter," Berlusconi says in the LaPresse audio clip.
He also says he had "re-established relations with President Putin" and goes on to boast that the Russian leader called him "the first of his five true friends."
A party spokesperson denied Berlusconi was in touch with Putin, saying the former prime minister had been telling parliamentarians "an old story referring to an episode many years ago."
However, in the LaPresse audio, Berlusconi can be heard saying Putin "was against any initiative" for war against Ukraine.
The comments have raised eyebrows among Ukraine watchers as Berlusconi is expected to be part of Italy's incoming coalition government led by the ultra-conservative Giorgia Meloni — who has been steadfast in her support for Ukraine.