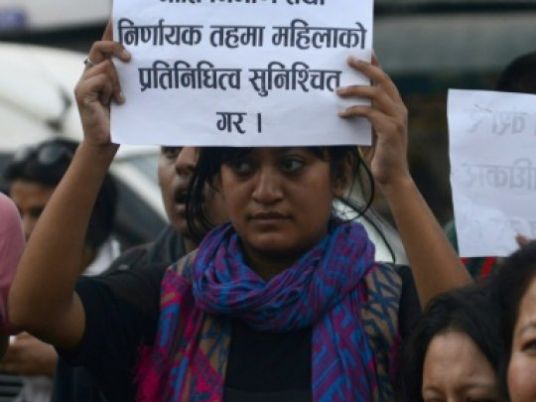 Rani Maya Shrestha was working on a neighbor's potato farm when the first of Nepal's two massive earthquakes struck last year. She rushed home to find her husband buried in the ruins of their house northeast of the capital Kathmandu.
"I should have died with him," said Shrestha inside the tin hovel that has been her home for the last year. "Without my husband, my life has become meaningless."
The frail looking 45-year-old woman has no documents to prove her rights to her husband's property in the ancient town of Sankhu. She survives on around 75 cents a day from knitting mufflers and woolen caps.
Twin quakes in April and May 2015 killed some 9,000 people in the Himalayan nation, leaving many women to fend for themselves in a country where widows face hostility, abuse, discrimination and even enslavement.
Mina Adhikari says her life was shattered after she lost her school teacher husband in the disaster. She is now struggling to bring up their two sons alone.
"It drastically changed the way I am treated by society. Society does not accept me as one of them," the 33-year-old said by phone from the village of Gairigaon close to the 7.8 magnitude quake's epicenter in west Nepal.
Women for Human Rights (WHR), a Nepali organization which campaigns for widows' rights, said women who had lost their husbands in the disaster faced a multitude of problems.
"There is superstition and stigmatization. Widows have no status," said WHR's chief Lily Thapa ahead of International Widows' Day on Thursday.
She said many widows lacked documents to claim their dead husband's property or faced difficulties getting rebuilding grants because their marriage was not registered, as is common in Nepal.
Some widows have also been abandoned when family members moved to new locations following the disaster, she added.
Although Nepal has taken major steps to empower women since the end of its decade-long civil war in 2006, widowhood remains surrounded by taboos in this patriarchal society.
Like other widows, Adhikari said she was no longer allowed to attend religious ceremonies or other celebrations because women who have lost their husbands are seen as inauspicious.
In some places, widows are considered so unlucky that people steer clear of them in the street.
Destitution and enslavement
Another factor is child marriage, with girls in Nepal often married off as teenagers to much older men.
When their husbands die many widows are left destitute. If they remain with their in-laws they may be confined to the house and treated like servants, activists say. In some cases the family may even blame the widow for her husband's death.
The Loomba Foundation, a widows' rights charity, said widows could face hostility because it was sometimes believed their husbands had died as punishment for immoral acts or crimes their wives had committed in a previous life.
"The younger the age of the husbands when they died, the greater the severity of the crime the widows [are believed to have] committed in the past life," the foundation said in a global report on widows last year.
The charity says widows in Nepal are also regularly accused of killing their husbands deliberately or through neglect — including by passing on HIV.
Traditionally, widows are required to shun merriment. They are banned from wearing red clothes and most jewelry. Many wear only white.
Often forced into virtual seclusion, they are not supposed to remarry or move out of their in-laws' homes, which leaves many open to exploitation.
Most widows in Nepal are illiterate and two thirds are under 35, compounding the risks of abuse, activists say.
In 2008, in recognition of the large number of war widows and popular aversion to widow remarriage, the government put forward a scheme to pay men a 50,000 rupee (US$460) incentive to marry widows.
But widows protested, saying the proposal was open to abuse by traffickers and would turn them into commodities. Nepal's Supreme Court ordered the government to ditch the initiative.
Widow president
However, WHR's Thapa says things are slowly improving. Some widows have even defied tradition by wearing red during protests against discrimination.
Thapa founded WHR 20 years ago following the death of her husband in the Gulf War while he was working with a peace mission in Iraq.
The organization, which has more than 2,000 widow groups nationwide, campaigns for better social and cultural rights, and helps widows secure property, economic independence and legal aid.
Thapa says several discriminatory laws and policies have been amended in recent years. For example, a widow who remarries no longer needs to return her deceased husband's property.
Social protections have also been strengthened, with all widows now entitled to a monthly allowance.
But campaigners say it will likely take many years for old prejudices to die out.
When Nepal's widowed President Bidhya Devi Bhandari visited a temple in the south last December some locals accused her of desecrating the shrine.
The following day they "cleansed" the temple with holy water, saying her worship there had made it impure.
Rights campaigner Durga Sob said the demeaning incident highlights the entrenched stigma faced by all widows in Nepal.
"This is extremely shameful," said Sob, head of Sankalpa, a network of women's groups. "When the country's president is treated this way, just imagine what treatment the voiceless, uneducated and poor widows may be facing."