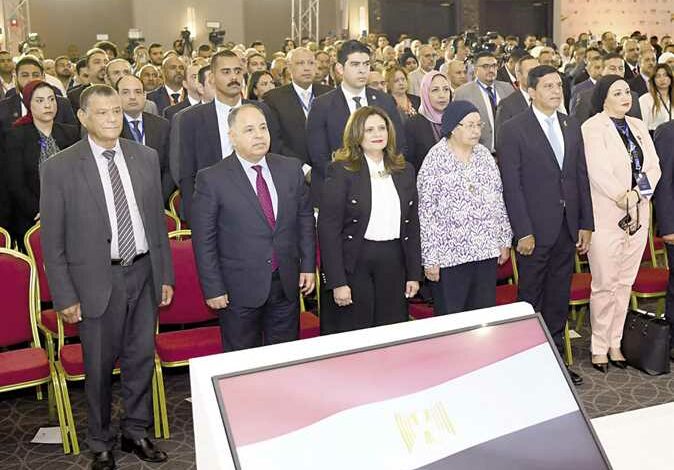 The Ministry of Immigration is coordinating with the Ministry of Solidarity to launch an umbrella for social and insurance protection to include all aspects of care for Egyptian expatriates in emergency situations, Minister of State for Immigration and Egyptian Expatriates Affairs Soha Gendy announced.
The Ministry of Immigration received more than 7,000 complaints and requests from expatriates last year through its pages on social media platforms, e-mail, the hotline, the unified government complaints portal and at the ministry's headquarters, Gendy said.
This came during her speech at the fourth session of the Egyptians Expatriates Conference, organized by the ministry and attended by more than 1,000 Egyptian expatriates from 56 Egyptian communities around the world.
She assured that the ministry is working with all concerned parties inside or outside Egypt to resolve these complaints.
Gendy also referred to the signing of a memorandum of understanding between the Ministry of Immigration, the Egyptian Insurance Federation, and the Egyptian Financial Supervisory Authority, to launch an insurance policy for Egyptian expatriates.
An optional insurance policy, which can be subscribed to via an insurance company's website and paid for in hard currency, will now be provided for expatriates, she explained, adding that this cooperation deal provides insurance coverage in cases of death, accidents, and the disbursement of compensation.
The services provided by the National Organization for Social Insurance to Egyptian expatriates has been facilitated and is being promoted to Egyptian expatriates.
The payment of the insurance value will be in US dollars in order to increase the proceeds of hard currency for the state budget, according to Gendy.
Gendy explained that the Egyptian Pool for Travel Insurance (EPTI) studies providing more facilities to benefit the largest number of Egyptians traveling to Arab countries, in addition to the current insurance coverage for travelers for a period of three months, in order to support Egyptian expatriates under different circumstances.
The Solidarity Ministry is also studying a proposal to establish an investment fund for Egyptian expatriates to enhance their social protection, through cooperation between  the Nasser Bank and an asset management company, Minister of Solidarity Nevine Kabbaj, said.
The fund will offer a savings pots in US dollar for Egyptians expatriates, by purchasing the fund's instruments, while providing an investment return on the deposited money, Kabbaj added.