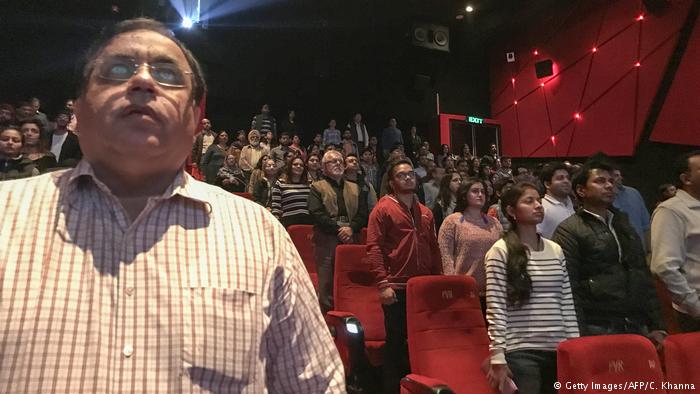 India's compulsory playing of its national anthem before cinema screenings has been toppled by the Supreme Court. It has, however, specified that audiences stand briefly if movie halls drop the patriotic singalong.
Indian media reported widespread relief Wednesday over the removal of assertive nationalism in cinemas imposed in 2016 under the Hindu right-wing Bharatiya Janata Party (BJP) government of Prime Minister Narendra Modi.
"We don't need to prove how much we love our country at the theaters," filmmaker Onir, who uses only one name, told Indian NDTV broadcasting. "Over the past year there have been many unfortunate incidents where people have been abused, insulted and humiliated."
Last October, India's federal home ministry asked the Supreme Court to examine the issue after attacks on minority Muslims and disabled people for not standing up.
Anthem no longer compulsory
Lawyer Abhinav Shrivastava, who had petitioned the court on behalf of a nongovernmental organization, said judges had accepted submissions that playing the anthem "Jana Gana Mana" should no longer be enforced.
Broadcaster NDTV said cinema hall associations based in India's entertainment capital of Mumbai would meet shortly to discuss the court's latest ruling.
Domestic media said it was apparent that the BJP had changed its position.
The Associated Press news agency said the court had ordered that a government commission be established to make further recommendations.
In the 1960s it became mandatory for cinemas to play the national anthem after movies, but the practice faded away in most Indian states.
The Indian national anthem, "Jana Gana Mana," was penned by the Nobel laureate Rabindranath Tagore in 1911 and adopted by India's National Assembly in 1950.