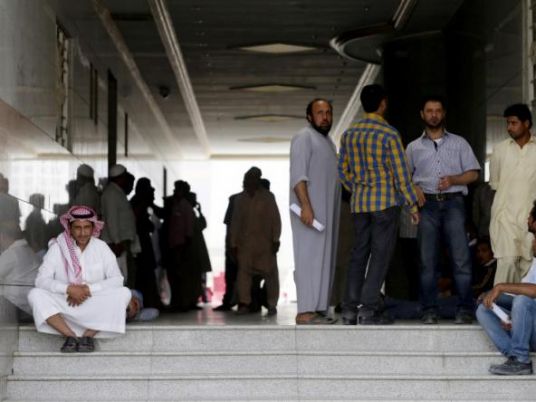 India said on Sunday it will send a government minister to Saudi Arabia to try to bring back more than 10,000 Indian workers who are facing a "food crisis" because they are unable to afford meals after being laid off from their jobs.
Low oil prices have forced the Saudi government to slash spending since last year, putting heavy pressure on the finances of local construction firms which rely on state contracts.
As a result, some companies have been struggling to pay foreign workers and have laid off tens of thousands, leaving many with no money for food let alone for tickets home.
India's Foreign Minister Sushma Swaraj on Saturday said over 10,000 Indians in Saudia Arabia and Kuwait were facing a "food crisis" because of economic hardships, while appealing to an estimated 3 millions Indians living in Saudi Arabia for help.
"Large number of Indians have lost their jobs in Saudi Arabia and Kuwait. The employers have not paid wages, closed down their factories," she tweeted on Saturday.
One of the country's two junior foreign ministers, V.K. Singh, will travel to Saudi Arabia next week.
Swaraj said on Saturday that India's other junior foreign minister, M.J. Akbar, would take up the issue with the authorities in the two Middle Eastern countries, saying the government was monitoring the situation on an hourly basis.
"While situation in Kuwait is manageable, matters are much worse in Saudi Arabia," she said in a tweet.
Separately, the Consulate General of India in Jeddah said on its official Twitter feed on Saturday that it had distributed 15,475 kg of food over the past three days in association with the Indian community.
It posted pictures of Indian people queuing up to collect the food packets.
The hardships faced by Indian migrants come amid rising protests about working conditions in Saudi Arabia.
Hundreds of foreign workers at construction firm Saudi Oger staged a public protest in Jeddah at the weekend to demand seven months of unpaid wages, Saudi Arabia's Arab News reported. They were dispersed by police after disrupting traffic.
Saudi Oger did not respond to a telephone call and an email seeking comment.
The Saudi government says it investigates any complaints of companies not paying wages and if necessary, obliges them to do so with fines and other penalties.