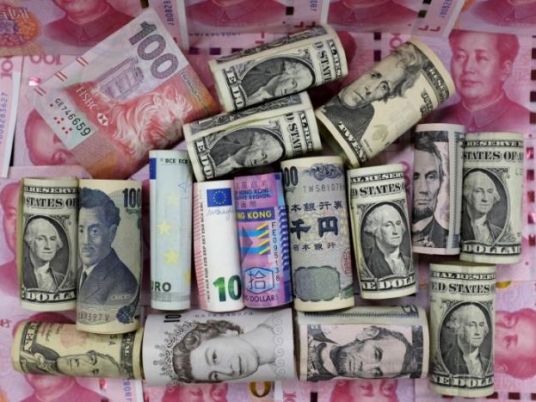 Individuals will be able to obtain foreign currency from banks without restrictions by the end of 2017, Aswat Masriya reported a senior official at the Central Bank of Egypt (CBE) as saying on condition of anonymity.
Aswat Masriya conducted a survey on Tuesday among 10 private and national banks in Egypt, all of which said that individuals can obtain foreign currency according to a set of tight conditions. The maximum limit of foreign currency individuals can receive varied from one bank to another.
Foreign currency flows, especially the US dollar, have started to increase in the banking system. Soon individuals will be able to buy foreign currency from banks more freely, the CBE official said.
He pointed out that only the bank's clients are able to obtain foreign currency as individuals, so the bank can investigate their request for foreign currency prior to approval, the official mentioned.
Only two banks, out of the 10 surveyed, allow customers who are not clients to buy foreign currency, namely the National Bank of Egypt and Banque du Caire.
Individuals can only buy foreign currency if they plan to travel abroad. The bank has to receive documents including the airline ticket and passport before it verifies the transaction. Individual clients can also obtain foreign currency if they need to buy medicine from abroad or to pay educational fees in hard currency. They must also provide documents detailing the reasons to the bank, Aswat Masriya reported.
In the meantime, individuals can rely on credit cards that allow them to buy foreign currency freely from banks, especially as banks have recently reduced restrictions on the use of the credit cards, said the official.
In 2016, a number of public and private banks operating in Egypt resorted to limiting the use of debit and credit cards outside of Egypt. Some banks completely suspended cash withdrawals through those cards outside the country, in light of a shortage in foreign currency.
The CBE announced the flotation of the pound on November 3, 2016, giving banks the freedom to set the prices of foreign currency depending on the demand of cutomers on market.
Foreign currency flows increased in banks after the US dollar price reached over LE19 before it fell back to around LE16 in February 2017.
Before the flotation, the dollar rate stood at LE8.8 in official banks, and LE19 on the black market.
The banking sytem provided US$15 billion for import transactions since the flotation until January 30, 2016, according to the unnamed official.
As of February 19, US dollar flow in banks recorded US$13 billion since the flotation, he added.
According to data obtained by Aswat Masriya from the CBE, total payments using credit cards abroad during the fourth quarter of 2016 (October-December) amounted to US$416.7 million compared to US$565.7 million during the same quarter of 2015.