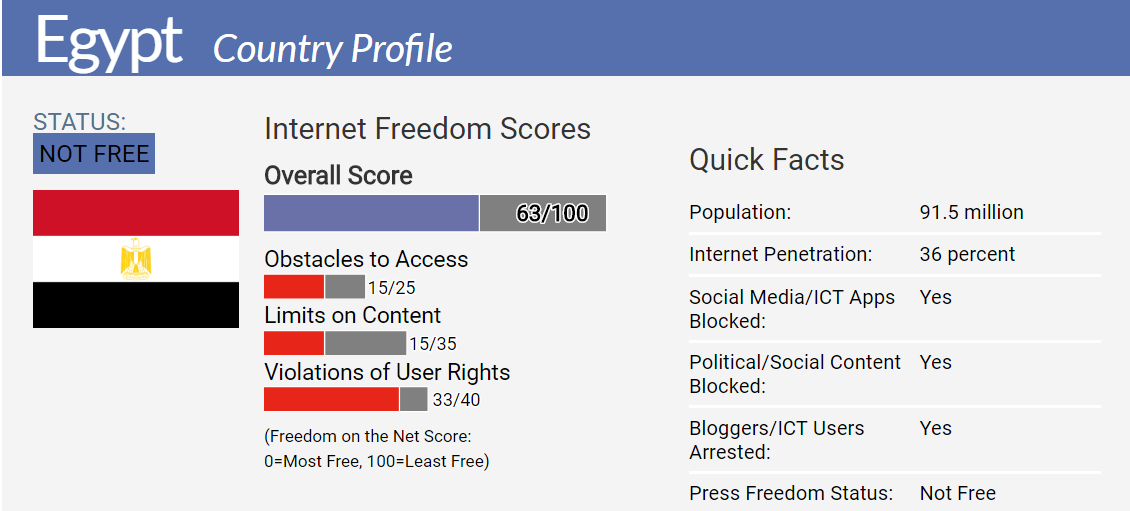 Freedom House, an independent US watchdog organization measuring democratic indicators around the world, determined in a new report that internet freedom in Egypt declined over the past year.
Egypt scored 68 out of 100 (with 100 being least free) on the press freedom scale for 2016, deteriorating from its score of 63 in 2015.
In another scale measuring violation of internet users' rights, Egypt had a score of 33 out of 40.
According to the report, Egypt blocked over 100 websites in 2016 and detained and prosecuted various named human rights activists for their online activities.
In another report released last month, Harvard University research project "Internet Monitor" stated that over 400 websites have been blocked in Egypt.
"Internet freedom around the world has declined in 2016 for the sixth consecutive year," the report said.
"Two-thirds of all internet users – 67 percent – live in countries where criticism of the government, military, or ruling family are subject to censorship," it went on.
"Social media users face unprecedented penalties, as authorities in 38 countries made arrests based on social media posts over the past year. Globally, 27 percent of all internet users live in countries where people have been arrested for publishing, sharing, or merely "liking" content on Facebook," the report said.
The report also highlighted what it considers a serious threat to democracy – the growing number of countries imitating Russia and China's alleged strategy of flooding social networking sites with misinformation as a form of election tampering.
According to Freedom House, 30 countries manipulated information circulating across the internet. These came in the form of paid commentators on social media, automated accounts – better known as 'bots', and websites publishing false news.
The report added that manipulation tactics and misinformation played an important role in determining election results in at least 18 countries, including the 2016 US presidential elections.