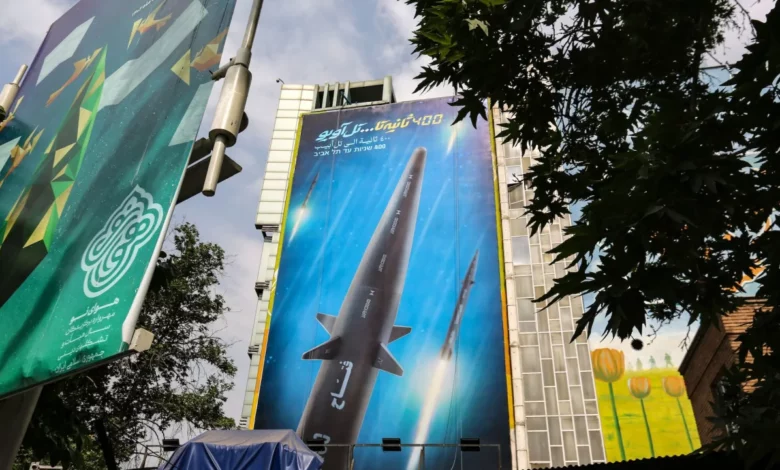 Abu Dhabi and Jerusalem
CNN
 —  It's not every day that you see billboards in Hebrew on the streets of Tehran.
This one, posted across the Iranian capital this week, reads: "400 seconds to Tel Aviv" in Persian, Arabic and Hebrew. It is an announcement of the latest missile in Iran's fast expanding arsenal of weapons – one that Iran's military says can travel up to 15 times the speed of sound.
The missile is called Fattah, apparently named after one of the 99 names of God in Islam meaning "victory giver." It was unveiled this week as a historic achievement for the country's military.
The hypersonic projectile has the ability to "penetrate all air defense missile systems and detonate them," Iran's Islamic Revolutionary Guard Corps' (IRCG) Aerospace Force Commander Brigadier General Amir Ali Hajizadeh said in comments published by the semi-official Tasnim news agency.
The IRGC says it can move within and above the earth's atmosphere and has a range of 1,400 kilometers (870 miles). That would put Israel within reach. Hypersonic missiles are those that can travel at a speed beyond Mach 5, or five times the speed of sound.
Israel's Defense Minister Yoav Gallant was quick to dismiss the potential threat posed to his country.
"I hear our enemies boasting about weapons they are developing," he said in comments published in Israeli media. "To any such development, we have an even better response – whether it be on land, in the air, or in the maritime arena, including both defensive and offensive means."
Iran's claims have not been independently verified but experts say they follow tangible progress in missile development.
Uzi Rubin, founder and former director of the Israel Missile Defense Organization at the Israeli defense ministry has no reason to believe the missile is not real and functional.
"The concept is realistic, elegant and is workable," he told CNN.
But he noted that it's not necessarily a major "revolution" in Tehran's missile capabilities, adding that it's not the first hypersonic missile Iran has designed, even though it is a "revolutionary design." Experts say that most ballistic missiles can travel at hypersonic speeds.
Alex Vatanka, director of the Iran Program at the Middle East Institute in Washington, DC, said that Iran has "a long history of making exaggerated claims" when it comes to developing missiles. "That said, Iran has made huge advances in this sector and no one can deny that. Has Iran made it to the A-list among countries that can produce hypersonic missiles? That is not the case."
The United States says Iran has the largest ballistic missile force in the Middle East and considers its missile arsenal as one of its "primary tools of coercion and force projection."
Iran has in the past insisted that its missile program is solely for defensive purposes. Kayhan newspaper, whose editor is appointed by Iran's supreme leader, however said in an editorial this week that the purpose of the Fattah missile is also "to show its deterrence in economic and political areas." Under heavy American sanctions, Iran regularly accuses the United States of waging an economic war against it.
Difficult to intercept
Since 2017, Iran has carried out five major cross-border ballistic missile strikes in the region, said John Krzyzaniak, a research associate at the Wisconsin Project on Nuclear Arms Control in Washington, DC. Those include two attacks on ISIS in Syria, and three in Iraq claiming to have targeted US forces, Kurdish militants and Israeli intelligence.
Experts say what distinguishes Iran's new missile from other projectiles it has designed is that it is maneuverable. It has a movable nozzle that allows it to travel an irregular path, making it difficult to intercept.
"If Iranian officials' claims about the new Fattah missile are true, then it will certainly have more maneuverability compared to previous systems," said Krzyzaniak. "But it doesn't achieve this in the same way as other countries' hypersonic weapons, and it probably won't have maneuverability to the same extent."
He said that Iran's claims about the Fattah are mostly credible as the missile is "largely an iteration on earlier, proven technology that Iran has developed domestically."
What does this mean for existing missile defense systems in the Middle East?
Israel has several missile defense systems. Its Iron Dome is designed to protect against short range rockets, like those launched from neighboring Gaza or Lebanon. David's Sling deters medium range projectiles. For longer-range ballistic missiles, it has the Arrow family of defense systems that has an operational range of 2,400 kilometers (1,500 miles).
Israel, Saudi Arabia and the United Arab Emirates deploy the US-made Patriot missile defense system, and Saudi Arabia and the UAE also use the Terminal High Altitude Area Defense (THAAD) system that can intercept short- and medium-range ballistic missiles at higher altitudes. THAAD was used in combat for the first time ever in January 2022 when a Houthi missile was launched against the UAE.
"It's possible that Patriot is capable of shooting down a Fattah missile, but hard to say for sure since there are still a lot of unknowns with both systems," said Krzyzaniak. "Reports out of Ukraine suggest Patriot has shot down Russian Kinzhal missiles, which are similar to Fattah in that they can maneuver at high speeds."
He noted however that Patriots deployed in Saudi Arabia failed to shoot down several missiles fired by Iran-backed Houthi rebels in Yemen "even though those weren't particularly sophisticated."
"Even a highly capable missile defense system can 'fail' if it's in the wrong location, if its radar is facing the wrong direction, if the missiles are flying too low to be detected, or if there are too many missiles in a single barrage," he said.
Gulf Arab states have long argued for Iran's missile program to be part of Western nations' talks with Tehran on its nuclear program, arguing that the projectiles pose a more direct threat to their safety. Iran's Arab adversaries in the region have however begun reconciling with the Islamic Republic of late, significantly reducing the potential for conflict in the Persian Gulf.
That leaves Israel as the state that is likely to be most concerned about Iran's new missile.
Rubin, the former Israeli defense official, said he's confident that even if Israel doesn't have the capability to protect against it now, "we'd be able to defend against it (in the future)."