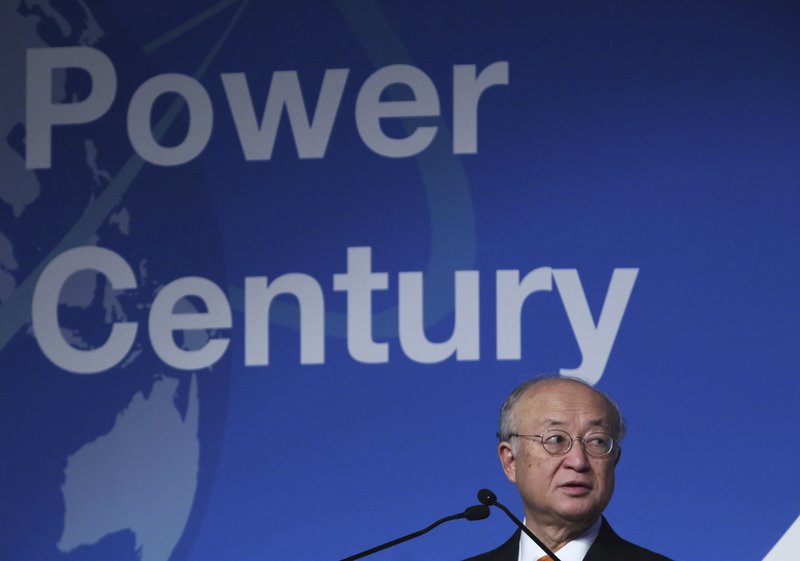 Iran's nuclear deal with world powers may hang in the balance, but you wouldn't know it at the United Nations conference on atomic energy held Monday in the United Arab Emirates.
Iran decided to skip the Abu Dhabi conference, leaving its seats empty as Yukiya Amano, the head of the International Atomic Energy Agency, avoided speaking about the nuclear deal at all in his address at the venue.
Iranian officials did not respond to a request for comment to discuss their decision to avoid the conference.
Amano's decision may have been tactical after visiting Tehran just the day before and telling journalists that Iran still honored the accord.
Both the UAE and neighboring Saudi Arabia remain highly suspicious of the nuclear deal, which saw economic sanctions on Iran lifted in exchange for it limiting its enrichment of uranium. The two Gulf Arab countries say that new money flowing into Iran has aided its ability to back Shiite militias in Iraq and support embattled Syrian President Bashar Assad.
Also sharing that suspicion is Israel, which sent a delegation to the nuclear conference. The UAE, like many Arab countries, does not have diplomatic ties with Israel and remains opposed to its occupation of lands Palestinians want for a future state.
Conference organizers asked journalists not to film the Israeli delegation.
Israeli officials did not immediately return a request for comment. Their presence also nearly created a unique diplomatic conundrum, as conference organizers had seated them next to Iran.
The Iran nuclear deal, struck in 2015, now faces one of its biggest threats. President Donald Trump has declined to re-certify the deal, sending it to Congress to address.
Trump's refusal this month to re-certify the agreement has sparked a new war of words between Iran and the United States, fueling growing mistrust and a sense of nationalism among Iranians. The European Union, Britain and other parties in the deal have all encouraged Trump to keep the accord in place.