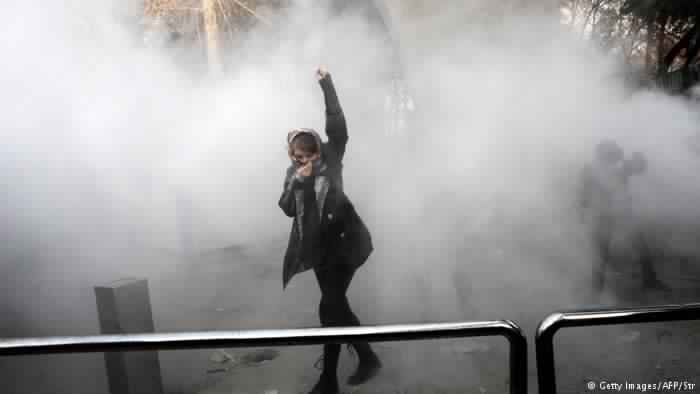 As questions remain about whether protests against the religious and political leadership that began in Iran on December 28 continue or have been quelled, the head of the Iranian army, General Abdolrahim Mousavi, declared his willingness to assist police in "the fight against those led by the devil." The statement echoed claims by the head of Iran's Revolutionary Guard who promised "very severe penalties" for those engaging in protests.
Unbearable situation or foreign meddling?
Iranian citizens' leaderless protests started by taking aim at high living costs and unemployment but quickly grew into shows of dissatisfaction with Iran's Middle East policy and the country's religious leadership. But the government in Tehran, and above all Supreme Leader Ayatollah Ali Khamenei, have insisted that the protests are being orchestrated from outside the country.
The government has reported that it has put an end to the protests, and Thursday saw massive pro-government marches and a very heavy police presence across the country. Mousavi was quoted as thanking security forces for "putting out the fire of sedition." Reporting from Iran has been very limited and the government also clamped down on internet services.
Legitimate complaints
Iranian President Hassan Rouhani, for his part, has insisted that some of the country's leaders are unwilling to admit protesters are acting on their own initiative and have very legitimate complaints about unemployment and freedom. He has also claimed that the country's economic woes are the result of sanctions placed on Iran prior to its signing the so-called Iran nuclear deal.
Threat of more sanctions
While many world leaders have been cautious in voicing opinions about the protests, US President Donald Trump has vocally encouraged them and promising "great support from the United States at the appropriate time."
Such statements have, in turn, led Russia to call for the United States stay out of what Deputy Foreign Minister Sergei Rybakov said were Iran's "domestic affairs." Russia also criticized a US call for an emergency session of the UN Security Council as "destructive."
"We see no role for the United Nations Security Council in this issue," he said, according to the agency. "Iran's domestic affairs have nothing to do with the United Nations Security Council's role," Rybakov said.
The Security Council will meet on Friday to discuss Iran at Washington's request.
US President Trump signed an executive order on Thursday sanctioning five Iran-based entities the US said helped develop the Iranian ballistic missile program.
"These sanctions target key entities involved in Iran's ballistic missile program, which the Iranian regime prioritizes over the economic well-being of the Iranian people," Treasury Secretary Steven Mnuchin said.
The United States "will not hesitate to call out the regime's economic mismanagement, and diversion of significant resources to fund threatening missile systems at the expense of its citizenry," he said.