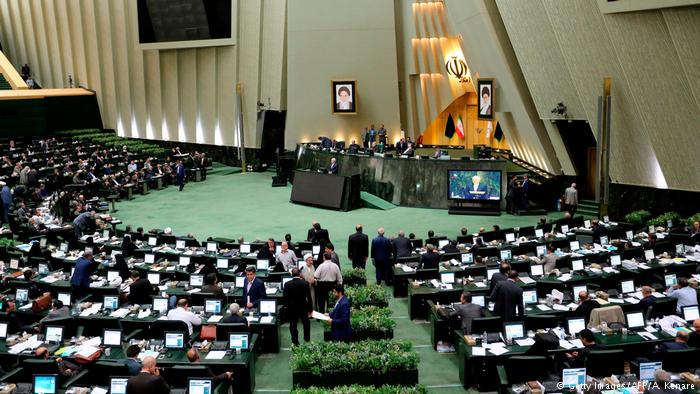 The bill paves the way for Iran to join a UN convention to combat money laundering and the funding of terrorism. The Islamic Republic has been under pressure from signatories of the nuclear deal.
Iran's parliament on Sunday passed a bill in a bid to avoid an investment blacklist and beat back the impact of renewed US sanctions.
The Combating the Financing of Terrorism (CFT) bill passed through parliament 143 votes to 120 despite heated criticism from hardliners who accused the government of treason.
The bill paves the way for Iran to join a UN terrorism financing convention and meet the demands of the international Financial Action Task Force (FATF), which sets global standards for combating money laundering and terrorism financing.
Following global standards
FATF is an intergovernmental organization founded in 1989 on the initiative of the G7 to develop policies to combat money laundering. In 2001 its mandate expanded to include terrorism financing.
Paris-based FATF had given Iran until mid-October to comply with its standards or face possible measures that would further deter investors.
The issue has taken on greater urgency with the US withdrawal from the 2015 nuclear accord in May and the renewal of sanctions, including ones set to go into effect on November 4 targeting Iran's oil trade.
Other parties to the nuclear accord — Britain, France, Germany, China and Russia — have sought to maintain trade and investment with Iran despite US sanctions. They have insisted that Iran meet international anti-money laundering and terrorism financing standards.
Opposition from hardliners
Hardliners in Iran say the measures violate the Islamic Republic's sovereignty and would limit its ability to support armed groups in the region, including its Lebanese ally Hezbollah.
Iranian compliance with the standards would increase transparency and shed light into the Islamic Revolutionary Guard Corps, which has a heavy footprint on the economy and runs regional military operations.
One hardliner, Mohammad Dehghan, argued the bill amounted to "treason" and would provide "the enemy with intelligence during an economic war."
Foreign Minister Javad Zarif spoke in parliament on behalf of President Hassan Rouhani's government in favor of the bill.
"Neither I nor the president can guarantee that all problems will go away if we join (the UN convention)," Zarif during the debate ahead of the vote. "But I guarantee that not joining will provide the US with more excuses to increase our problems."
He said even "strategic allies" China and Russia were demanding Iran comply with FATF.
Bills awaiting final approval
The CFT bill is one of four put forward by the Rouhani government to meet FATF demands.
It must still be passed by the Guardian Council, a body that vets legislation passed by parliament for compliance with the constitution.
Two other bills on money-laundering and organized crime have already passed parliament but are waiting approval from the clergy-dominated council.
The Guardian Council approved a bill in August on the mechanics of monitoring and preventing terrorist financing.