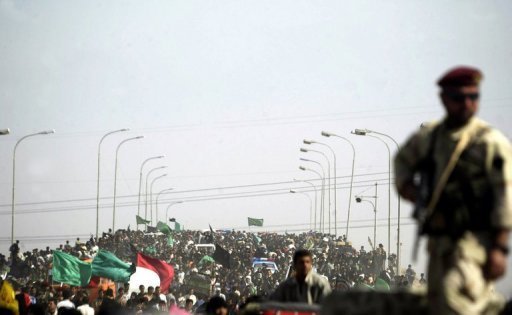 A bomb killed at least 20 Shia pilgrims near the southern port city of Basra on Saturday, Iraqi officials said. It was the latest in a series of attacks during Shia religious commemorations that threaten to further increase sectarian tensions just weeks after the U.S. withdrawal.
Basra hospitals have received 20 killed and 70 wounded after the blast near a shrine close to the town of Zubair, said Dr. Riyadh Abdul-Amir, the head of Basra Health Directorate.
A police official confirmed the death toll. He spoke anonymously because he was not authorized to release details to the media.
The governor of Basra province's spokesman, Ayad al-Emarah, said it was not clear whether the blast was caused by a suicide attacker or a roadside bomb.
The explosion came as Shia commemorate the climax of Arbaeen, which marks the end of 40 days of mourning following the anniversary of the death of Imam Hussein, a revered Shia figure.
Majid Hussein, a government employee, was one of the pilgrims heading to the shrine. He said people began running away in panic when they heard a loud explosion.
"I saw several dead bodies and wounded persons, including children on the ground asking for help. There were also some baby strollers left at the blast site," he said.
The attack, which bears the hallmarks of Sunni insurgents, is the latest in a series of deadly strikes in this year's Arbaeen. Scores of pilgrims have been killed. The attacks raise fears of a new sectarian rift that could destabilize Iraq now that U.S. troops have left the country.
The violence comes amid a political crisis that has paralyzed Iraq's government and pits the country's mostly ethnic- and religious-based political blocs against one another. Iraq's Sunni minority dominated the government under the dictatorship of Saddam Hussein, but since he was overthrown, Shia have controlled most key posts.
Many fear the crisis will push Iraq toward a renewal of the large-scale sectarian fighting that pushed the country to the brink of civil war in 2006 and 2007.