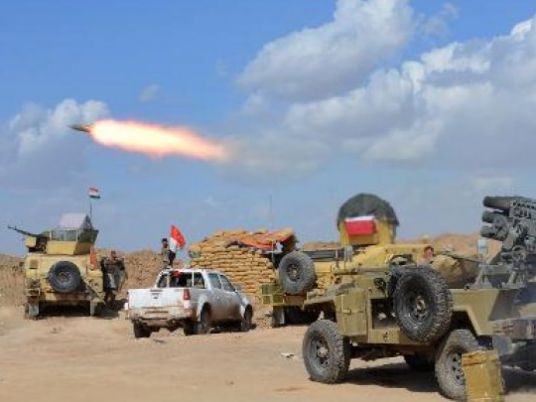 Iraqi forces faced tough resistance from jihadist fighters around Tikrit Saturday but the top US military officer said ahead of a visit to Baghdad victory was only a matter of time.
Iran has actively and visibly supported Baghdad's biggest operation yet against the Islamic State group but General Martin Dempsey insisted US air strikes north of Tikrit had been key.
"The Tikrit operation is only possible because of the air campaign we've been running around Baiji," a town further north, he said.
The jihadist group's footprint in Iraq has been shrinking steadily since federal and Kurdish troops went on the counteroffensive roughly six months ago, with foreign military backing.
The US military announced that a string of 26 air strikes over two weeks had succeeded in forcing IS out of Al-Baghdadi, a small town near a large Iraqi base in western Iraq where US advisers are stationed.
"Iraqi security forces and tribal fighters from the Anbar region have successfully cleared Al-Baghdadi of ISIL (IS), retaking both the police station and three Euphrates River bridges," it said.
An offensive was also launched this week to recapture Gurma, another town in Anbar which is located only 10 kilometers (six miles) from the IS stronghold of Fallujah and less than 30 kilometers (20 miles) from Baghdad airport.
"Gurma will soon be liberated totally, our forces are on the edge of town," a statement from Baghdad operations command said late on Friday.
It claimed that 73 militants were killed in the first two days of fighting and a number of bombs defused.
Hospital sources told AFP that dozens of government forces wounded in the operation had been brought in but that the bodies of those killed were being handed over to their families directly.
Overwhelming numbers
The government has provided no casualty toll for the much larger operation aimed at retaking Tikrit, which was launched on 2 March.
Residents living on the road between Samarra, where the operation's command center is located and Baghdad further south, say convoys bringing back bodies have been passing regularly.
The IS group used several devastating truck bombs in the early hours of the operation, targeting the army, police, Shiite militias and volunteer units.
Undated footage surfaced on the Internet Saturday of the bodies of eight men described as pro-government volunteers hanging from a bridge in Hawija, 75 kilometers (45 miles) north of Tikrit.
Iraqi forces spent the first days of the operation clearing outlying areas and are now closing in on Tikrit itself, as well as the towns of Al-Alam and Ad-Dawr.
Tikrit is the hometown of executed dictator Saddam Hussein and Ad-Dawr that of Izzat Ibrahim al-Duri, the most senior member of his regime still at large.
Fighting raged in Ad-Dawr on Friday but Dempsey, speaking to reporters aboard his plane en route to Bahrain and Iraq, said it was only a matter of time before IS was defeated in Tikrit.
"The numbers are overwhelming," he said, adding that "hundreds" of IS fighters were facing an estimated 23,000 government and allied forces.
Columns of Iraqi military trucks and armored vehicles were lined up along the main road to Tikrit, and it resembled a rush hour traffic jam in Washington, "bumper to bumper," he said.
He spoke of the role of Iran, which with the United States has been Iraq's other key foreign partner in the fight to reclaim the land lost last summer but is not a member of the 60-nation US-led coalition.
Dempsey said he is "trying to get a sense for how our activities and their activities are complementary."
The jihadists have been responding by ramping up a campaign of what UNESCO has called cultural cleansing, destroying heritage treasures one after the other.
A week after releasing a video showing its militants smashing priceless statues inside Mosul museum, IS bulldozed the archaeological site of Nimrud just south of the city on Thursday, according to the antiquities ministry.
The destruction sparked a fresh round of global outrage but experts said little could be done to save other heritage sites under IS control short of defeating the jihadists militarily.