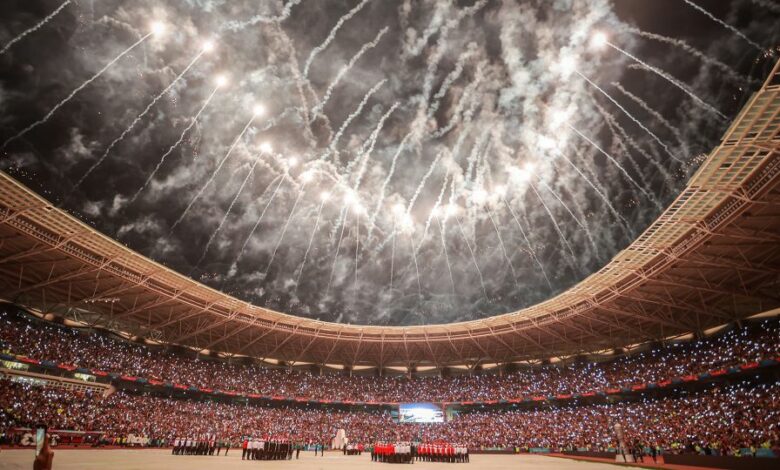 Baghdad and Abu Dhabi
CNN
 —  Iraq is holding its first international soccer tournament in more than four decades, hosting its Gulf Arab neighbors for a two-week competition as it emerges from its
worst and longest
political deadlock in years.
The tournament, analysts say, is a glimmer of hope for a struggling population, but also holds a political message – Iraq is signaling to its neighbors and the world that it is ready to move past decades of turmoil.
After more than 30 years of global isolation due to wars and sanctions, for many Iraqis the Arabian Gulf Cup – the tournament started on Friday and will run until January 19 – is something of a tonic.
"Iraq is a football-mad country that has been lobbying for years for the right to host competitive international games," said Patrick Osgood, associate director of the Control Risks consultancy firm in Dubai.
This is the first time Iraq has hosted the Gulf Cup since 1979, when it was held in the capital Baghdad. This time, the tournament is being held in the southern port city of Basra, with teams from Saudi Arabia, Oman, UAE, Kuwait, Qatar, Bahrain and Yemen also competing.
Since it last hosted the Gulf Cup, the nation has faced two devastating wars, a regime change, an occupation and a militant insurgency that impacted the once thriving Basra as it did the rest of the country. Of late, the city's residents have encountered severe energy and food shortages that have led to unrest.
"The practical effect in a city in dire need of investment is likely to be small," Osgood told CNN. "But Iraqis deserve nice things, to participate with others, to be able to exercise hospitality."
There is excitement and fervor in Basra about the tournament. Murals adorn the city's walls and fans were seen joining long queues for tickets. Flags flutter from every participating nation in streets and there are welcoming posters reading, "Basra welcomes you" and "Basra is your home."
"We've been waiting for this moment for 40 years," said 29-year-old Mohammed Ali, a taxi driver in Basra, adding that the city feels very secure and its residents are filled with joy for the occasion.
"We have experienced problems, but we always say that sport unites people," he told CNN. "We are seeing many people from the Gulf, and we can tell that they too have missed Basra."
The last Gulf Cup was held in Qatar in 2019, with Bahrain emerging as the winner.
Gulf Arabs rarely travel to Iraq for tourism. Of all the Gulf states, only the travel hubs of Doha and Dubai have direct flights to the country, catering largely to connecting passengers and Shiite Muslim pilgrims. Gulf states' ties with the Iraqi government have warmed over the past few years, but that hasn't trickled down to the public level. In Saudi Arabia, government permission is required for travel to Iraq, which is only given to men above 40.
Major General Saad Maan, head of public relations at the Iraqi interior ministry, told CNN that he expects "tens of thousands of fans to arrive in Basra" and that all security measures have been taken to assure the safety of both residents and fans.
"Iraq is saying that there is great political stability," said Ihsan Al-Shammari, a politics professor at Baghdad University and head of the Iraqi Centre for Political Thought. "It also speaks to the security situation, especially if the tournament is successfully completed without any security incidents."
Iraq also hopes that the event will bolster its image to investors and political partners, said Al-Shammari, as well as bring it closer to its Gulf Arab neighbors with whom it has had frosty relations since Saddam Hussein's invasion of Kuwait in 1990.
The opening ceremony on Friday started with a spectacular fireworks display and a theatrical performance chronicling the nation's 5,000-year history, though the showpiece occasion wasn't without controversy.
The Iraqi Football Association apologized to Kuwait for a brawl that took place in the Basra International Stadium's VIP section that prevented the Kuwaiti ruler's representative from entering. That prompted the rest of the delegation to leave the event. The Kuwait FA said it will continue participation in the tournament after being given security guarantees from Iraq.
Iraq drifted into chaos after a 2003 US-led invasion toppled longtime ruler Saddam Hussein, and around the end of 2021 fell into its longest political stalemate as the country's various political factions – divided mainly between Shiite blocs and their Iran-backed rivals – failed to form a government.
The deadlock was only broken last October with the election of a new president and premier, but experts remain skeptical about whether the new government can prevent further stability and instill serious reforms.
The country's economy is still in crisis, much of its infrastructure is in ruins and its ties with neighboring states are strained as Iran continues to support prominent political factions and their armed militias.
While not the center of most violence, Basra has its own issues.
"Basra city experiences security issues around crime and protest activity," said Osgood, "but neither issue is prohibitive, and the government has surged security provision to mitigate threats."
"On balance, there's unlikely to be major security disruption during the tournament," he said, adding that "there are significant socio-economic issues in Basra that drive unrest, but there's also significant goodwill around the tournament – no one wants to spoil it."
The tournament is not on the international soccer radar but it is a heated topic in the Gulf region and has often been reflective of the region's geopolitical scene.
Iraq last hosted the Gulf Cup 44 years ago, when it won the tournament. The nation was banned from it for about a decade after Saddam Hussein's invasion of Kuwait and was prevented from hosting it since due to security reasons.
Despite the hiccups, residents of Basra are optimistic about the tournament in their city.
"The whole of Basra is joyous, opening its doors to the Gulf and other provinces (of Iraq)," said 46-year-old Ali Salman of Basra.
"We want to say to visitors from the Gulf and other provinces of Iraq: don't rent hotels, the doors of our homes are open."