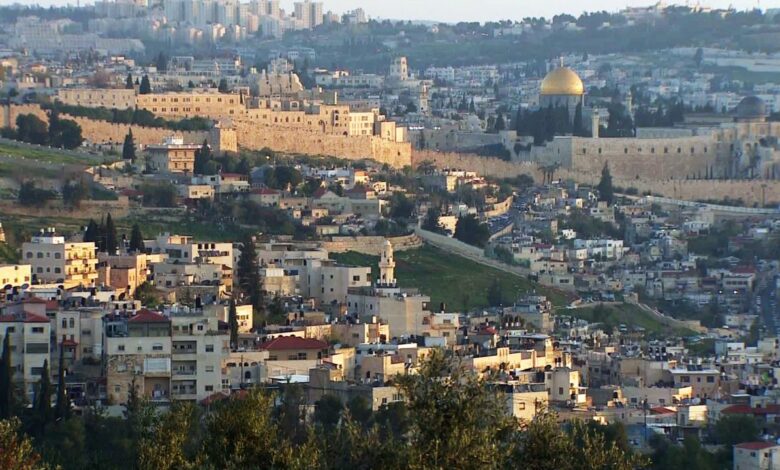 Jerusalem and Gaza
CNN
 —  Palestinian militants launched rockets towards Jerusalem, Tel Aviv and Israeli settlements in the occupied West Bank, an escalation of
violence in the region
that has
led to the deaths
of at least 31 Palestinians in Gaza and one person in Israel.
The al Quds Brigades of Islamic Jihad said in a statement shortly after the rocket fire: "The launching towards Jerusalem is a message, and everyone should understand its purpose. Jerusalem is in front of our eyes, and what is happening there is not separate from Gaza."
It called the operation "Revenge of the Free."
Just before, explosions were heard in Jerusalem as a new wave of rockets was launched from Gaza towards Israel, amid persistent cross-border fire that has led to heavy bloodshed in the region particularly along the strip.
Rockets have not previously been fired towards Jerusalem in the current hostilities, which began earlier this week.
A CNN producer in Gaza heard long-range rockets being fired earlier on Friday, along with other rockets and mortars.
The Israel Defense Forces (IDF) said earlier that it did not immediately have information about rocket fire towards Jerusalem, but said there had been "a serious barrage."
Sirens sounded at least five times in Israel on Friday morning, warning of incoming rocket fire in areas around Gaza, but there were no immediate sirens in Jerusalem.
IDF strikes resumed Friday morning, as the force said it had carried out airstrikes on "military posts" and "concealed rocket launchers" in the Gaza Strip of the "Islamic Jihad terrorist organization" in the early hours of Friday.
Violence ramped up between the two sides on Tuesday, when the IDF began unleashing waves of airstrikes on what it says are Islamic Jihad operatives and infrastructure along the strip.
Palestinian militant groups retaliated by launching hundreds of rockets towards Israel.
Talks about a ceasefire between Israel and Islamic Jihad have stalled, a diplomatic source briefed on the talks told CNN Thursday. The source asked not to be named due to the sensitivity of the diplomatic discussions.
The latest casualty was a Palestinian man who died of his injuries in Gaza on Friday, according to the Ministry of Health there.
The hospital where he died named him as Alian Abu Wadi, 38, and said he died after doctors attempted to save him. His family said he was wounded Thursday night in an airstrike in the town of Jabaliya, in the northern Gaza Strip.
Before the news of Wadi's death, IDF chief spokesperson Rear Adm. Daniel Hagari said the Israeli military believed among the 30 Palestinians killed, 16 were "combatants," and 14 were "uninvolved." The IDF said that four of those Palestinians were killed by Islamic Jihad rockets falling short and landing in Gaza, which the militants rejected as a lie.
As of early Friday afternoon local time, militants in Gaza have launched 938 rockets, the IDF said. Some 730 crossed the border into Israel, 177 landed in Gaza, and 31 landed in the sea, the IDF said. Twenty of the rockets fell in Israeli-populated areas, and 263 were intercepted, the IDF said.
CNN's Abeer Salman and Richard Allen Greene reported from Jerusalem. CNN's Ibrahim Dahman reported from Gaza. CNN's Alex Stambaugh reported from Hong Kong. CNN's Sana Noor Haq wrote from London.