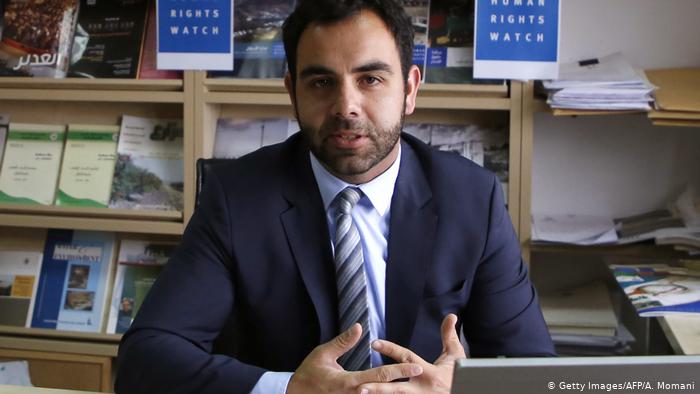 The Israeli Justice Ministry on Tuesday said Omar Shakir, the director of Human Right Watch's Israel office, must leave the country by May 1 after he lost an appeal against a deportation order.
Israeli authorities have accused Shakir, a US citizen, of supporting the Boycott, Divestment and Sanctions (BDS) movement against Israel's military occupation of the West Bank and building of illegal Jewish settlements on Palestinian land.
Read more: HRW's Shakir: Democratic values deteriorating in Israel 
"Those who call to boycott Israel aim their arrows at it, but the individuals living in it are the ones who pay the price of the boycott," the Jerusalem district court said in its ruling. Shakir "continues to publicly call for a boycott on Israel or parts of it, while at the same time asking that it opens it gates for him."
Gilad Erdan, Israel's strategic affairs minister, welcomed the ruling, saying: "We will not allow the promotion of boycotts under the disguise of 'human rights activists' as Shakir did."
Read more: Open appeal to EU over Middle East two-state solution
'Muzzling' group
Human Rights Watch has accused the Israeli judiciary of using a 2017 law banning entry to foreigners who support BDS in order to quell criticism of the country's policies toward Palestinians.
"Israel portrays itself as the region's only democracy, but is set to deport a rights defender of his peaceful advocacy," said Tom Porteous, the watchdog's deputy program director. "Israeli authorities should focus on ending their serious human rights abuses rather than muzzling groups reporting on them."
"Neither Human Rights Watch nor Shakir as its representative promotes boycotts of Israel. The advocacy in question focuses exclusively on the Israeli occupied West Bank," Human Rights Watch said in a statement.
Shakir said Human Rights Watch would appeal the district court's ruling and take it to the Israeli Supreme Court.
Read more: Is Israel ready for fundamental political change?
ls/se (Reuters, AFP)