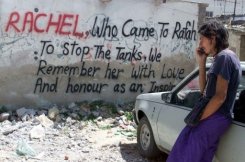 An Israeli court on Tuesday rejected all claims of negligence in a civil lawsuit brought by the family of US activist Rachel Corrie, who was killed by an Israeli military bulldozer during a protest in 2003.
"I reached the conclusion that there was no negligence on the part of the bulldozer driver," said Judge Oded Gershon, reading out his verdict at Haifa District Court in northern Israel.
The judge said he found no case for negligence on the part of the Israeli army, and that the military police investigation into her death had been properly conducted.
Corrie's parents, Craig and Cindy, had travelled from the United States to be present in court and followed the proceedings with the help of an interpreter, an AFP correspondent said.
They were accompanied by around 50 friends and well-wishers.
The 23-year-old activist was killed in Rafah in the southern Gaza Strip in March 2003 while she was with a group of pro-Palestinian activists acting as human shields to prevent a house demolition.
The Israeli military closed its own investigation into the matter in 2003 without taking any disciplinary action, saying the bulldozer crew could not see Corrie because she was behind a mound of rubble.
But activists who were with her at the time said she was clearly visible to the driver of the military bulldozer.
Dissatisfied with the outcome of the military's investigation, the family in March 2010 launched a civil suit against the state of Israel and the defense ministry for the symbolic sum of US$1, plus costs.