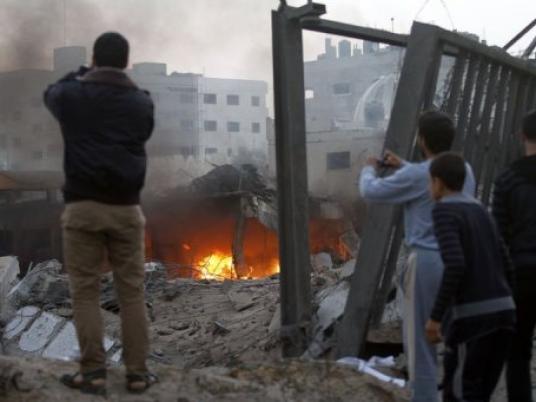 Israel is easing its blockade of Gaza to allow construction materials and other goods into the enclave under the terms of a truce deal mediated by Egypt.
The decision allows private companies and individuals to import construction materials that were previously restricted exclusively to international aid groups under the terms of Israel's blockade, AFP reported.
The truce between Israel and Gaza's leaders Hamas ended more than a week of Israeli air strikes and Palestinian rocket fire last month.
This is the first time Israel has allowed such goods into Gaza since 2007, said Palestinian customs official Raed Fattouh.
Starting on Sunday up to 20 trucks carrying gravel will be allowed into the strip daily Sunday through Thursday via the Karem Abu Salem border crossing in southeast Gaza, Fattouh said. Karam Abu Salem is the only commercial crossing open to the transport of goods and fuel and is closed on Fridays and Saturdays.
Israel is also allowing 207 trucks to cross into Gaza carrying aid supplies, commercial, agricultural and transportation equipment and large quantities of cement, iron and gravel, Fattouh said in a statement Thursday.
Limited quantities of cooking gas will also be allowed to enter, and Gaza will export four truckloads of strawberries, flowers, spices and green peppers to Europe, according to officials. A truck carrying wooden furniture exports also left the strip Thursday.
Israel has restricted the import of goods into Gaza since 2006, when Palestinian militants captured an Israeli soldier in a cross-border raid. The blockade was tightened a year later after Hamas seized Gaza from its Fatah rivals in fighting that erupted after the Islamist group won legislative elections.
Guy Inbar, a spokesperson for the Israeli Defense Ministry body that coordinates with the Palestinians, confirmed the new policy, saying the deal would also allow the import of heavy construction vehicles, including bulldozers.
"It's the first time since 2007. It's part of the dialogue, the conversation that we have with the Egyptian side and because of the calm," he said, adding that more allowances will be made if the calm continues.
"We're also working on improving the electricity system in the north of Gaza in order to promote and to improve the electricity in that area," he said.