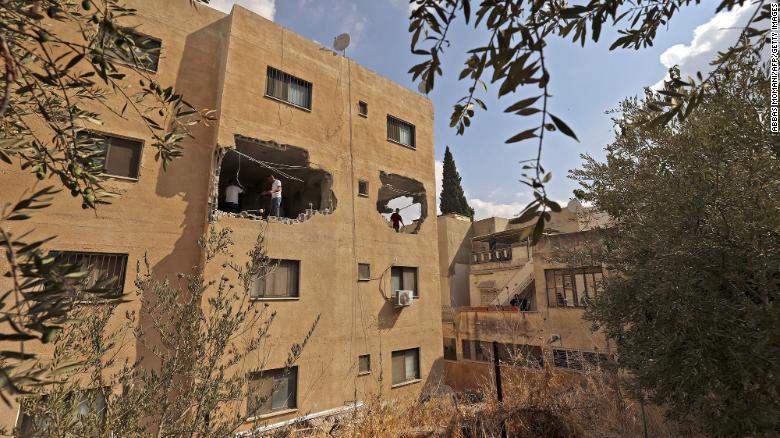 CNN
 —  Israeli forces have
concluded their largest-scale
military operation in the occupied West Bank city of Jenin in decades, killing at least 12 Palestinians and leaving widespread destruction across the city's refugee camp.
Jenin has emerged yet again as a flashpoint of violence gripping the West Bank. Teenagers are among the dead, and one Israeli soldier died Tuesday, but the Israeli military said that no non-combatants have been killed — although it acknowledged there are civilians among the more than 100 injured. Militant groups in Jenin claimed at least eight of those killed as their fighters.
A CNN team on the ground in Jenin on Wednesday saw roads completely torn up, and massive amounts of damage to buildings, homes and cars. Crews were working to restore electricity that had been severely disrupted during the operation. Images on Wednesday showed residents preparing one grave for all 12 Palestinians killed.
An Israeli military source said Monday that the operation, which stretched over 48 hours, was the largest in Jenin in more than 20 years. The United Nations secretary-general expressed deep concern and said that all military operations must be conducted with respect for international humanitarian law.
As the operation was underway on Tuesday, a driver rammed into pedestrians standing in a Tel Aviv shopping center and proceeded to get out of the vehicle to stab civilians with a sharp object, according to Israeli police who called the incident a terror attack. Eight people were injured, one critically, and the driver of the car was killed by an armed civilian, Israeli police said. Palestinian militant group Hamas, said the driver was one of their fighters, and claimed responsibility for it.
In the early hours of Wednesday, as the Israeli military was withdrawing from Jenin, militants in Gaza fired five rockets toward Israeli territory, which Israel said were successfully intercepted.
In retaliation, Israeli air force jets struck what they called Hamas weapons and rockets sites in Gaza. No injuries were reported in Gaza or Israel.
The operations came after rising tensions in Jenin and across the West Bank over the past 16 months. Here's what you need to know:
Why did Israeli forces go into Jenin?
Early on Monday, the Israel Defense Forces (IDF) launched its major operation in Jenin, carrying out air strikes by drone and targeting what it said was a "command and control" center for militants in the refugee camp there.
That launched the incursion that involved hundreds of soldiers, at least ten drone airstrikes, and bulldozers that Israel says were used to disarm potential explosives buried under the asphalt. It even included tanks on the outskirts of the city.
An IDF spokesperson told reporters Monday the operation had been planned for some time, with the goal to dismantle the "safe haven" Jenin has become for militants. At least 50 shooting attacks toward Israelis have emanated from Jenin, the spokesperson said.
According to the spokesperson, the IDF entered "every point" of the refugee camp and said at least 120 people were detained. Israeli soldiers dismantled what the IDF said were hundreds of explosives, weapons caches and underground tunnels. Fierce firefights were reported between soldiers and militants.
During the operation, thousands of Palestinians fled their homes in the city's refugee camp, where electricity and water services were severely damaged, according to Palestinian officials.
On Tuesday evening, the IDF announced that it was starting to leave the camp. And on Wednesday morning, IDF spokesperson Brigadier General Daniel Hagari told Israeli military radio station Galei Tzahal: "All the forces have left Jenin; we have finished the operation — its goals have been achieved."
But Israeli Prime Minister Benjamin Netanyahu said the "extensive operation in Jenin is not a one-off."
"We will not allow Jenin to go back to being a city of refuge for terrorism," he added.
The head of Hamas' political bureau, Ismail Haniyeh, said on Wednesday that Israel "withdrew from Jenin refugee camp with its tail between its legs."
He said that even though there were Palestinian casualties in the city, "the Palestinian resistance has taught the Israeli occupation a lesson. Now it will think twice before attacking the Palestinian people."
What led to this?
Tensions have been high across the West Bank for more than a year, and particularly over the past few weeks. But while this week's military operations in Jenin were the largest for some time, incursions into the city's refugee camp have become a feature of life for those who live there.
Israel began regularly raiding cities in the occupied West Bank, targeting militants, last year, after a wave of Palestinian attacks targeting Israelis. Much of the focus of these raids has been on the cities of Jenin and Nablus, which the IDF has called militant hotspots.
Last year was the deadliest year on record for both Palestinians and Israelis across the West Bank and Israel in more than a decade.
The latest wave of violence peaked late last month, when Israeli settlers attacked Palestinian villages in the occupied West Bank, in revenge attacks after the killing of four Jewish settlers nearby by Hamas militants.
Hamas, the leading Palestinian Islamist militant group, said those killings had been in retaliation for an Israeli military operation in the Jenin area on June 19, which left seven Palestinians dead and 91 injured. Eight Israeli soldiers were injured.
While the military raids have become a regular feature in the West Bank, there's been a marked increase in settler violence against Palestinians in recent months, as far-right ministers in Prime Minister Benjamin Netanyahu's government call for unauthorized settler outposts in the West Bank to be expanded and turned into full settlements.
After the violence last month, Netanyahu warned Jewish settlers not to "grab land illegally" in the West Bank, as humanitarian bodies raised the alarm over a series of severe attacks on Palestinian villagers.
But at the same time, Netanyahu endorsed the expansion of government-approved settlements in the West Bank, which are considered illegal under international law.
Is the timing of the operation significant?
The uptick in Israel's West Bank operations takes place with Israel's most right-wing government in power. It includes cabinet members who have a history of extremist views, particularly on Palestinians.
National Security Minister Itamar Ben Gvir was once convicted for supporting terrorism and inciting anti-Arab racism. Earlier this year, Finance Minister Bezalel Smotrich triggered an international outcry when he called for a Palestinian village to be "wiped out" after Israeli settlers were killed there.
The rise in tension also takes place amid attempts by the Netanyahu government to pass a contentious judicial reform bill in Israel, which over the last few months sparked some of the largest protests the country has seen.
Disagreements over the judicial overhaul plan have caused deep divisions in Israeli public opinion, which analysts have said are often eased amid national security threats.
What's life like in Jenin?
Jenin sits toward the north of the Israeli-occupied West Bank and has officially been under the administration of the Palestinian Authority since 1993.
The city houses a tightly packed refugee camp, which has been the focus of this week's raids. It was established in 1953 for Palestinians who were uprooted from their homes after Israel's creation in 1948. Decades later, it's now a built-up area with homes, shops and schools, but it has one of the highest rates of poverty of all of the West Bank refugee camps, according to the UN.
The camp is home to more than 17,000 Palestinian refugees in an area that is less than half a square kilometer in size. Inside, there are schools and a health center. But levels of unemployment and substance abuse are high among inhabitants, the UN says.
The camp has become a hotbed of armed resistance against the Israeli occupation. Hamas and Islamic Jihad have a major presence there, and members of the Jenin Brigade, a recently formed group, spoke to CNN last year and urged Palestinian leaders to join an armed resistance.
Jenin has seen waves of violence over the past two decades. In 2002, during the Second Intifada, or Palestinian uprising against Israel, the camp was occupied by Israeli forces after 10 days of intensive fighting, leaving 400 homes destroyed and a quarter of the population homeless, according to the UN.
A UN special envoy to the Middle East, who visited the Jenin refugee camp at the time, described the scene as "shocking and horrifying beyond belief," the air filled with the smell of decaying bodies.
How has the international community reacted?
International organizations have expressed alarm.
Doctors Without Borders has condemned a lack of medical access for those who have been injured. "Military bulldozers destroyed multiple roads leading to the Jenin refugee camp, making it nearly impossible for ambulances to reach patients," the group said. "Additionally, Palestinian paramedics have been forced to proceed on foot to reach people in need of desperate medical treatment in an area with active gunfire and drone strikes."
And a UN agency said Tuesday it was alarmed by the scale of the raids.
"We are alarmed at the scale of air and ground operations that are taking place in Jenin in the occupied West Bank, and air strikes hitting a densely populated refugee camp," Vanessa Huguenin, a spokesperson for the UN humanitarian office, told a briefing, according to Reuters.
The US State Department is meanwhile "closely tracking the situation in Jenin and the West Bank," a spokesperson told CNN on Monday.
"We support Israel's security and right to defend its people against Hamas, Palestinian Islamic Jihad, and other terrorist groups," the spokesperson said. "Today's events further underscore the urgent need for Israeli and Palestinian security forces to work together to improve the security situation in the West Bank.
"It is imperative to take all possible precautions to prevent the loss of civilian lives," the spokesperson said.