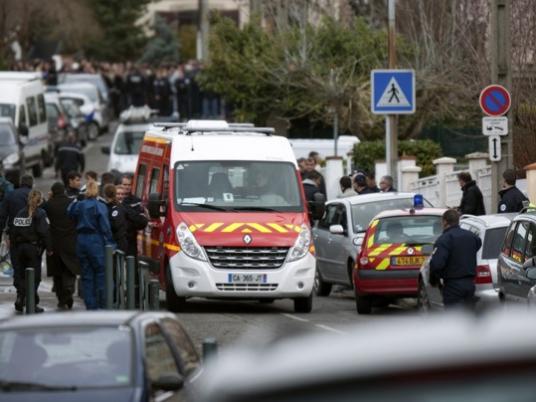 Israeli media commentators on Tuesday warned of the growing specter of anti-Semitism in Europe, a day after an attack at a Jewish school in Toulouse that left four people dead.
"The attack in Toulouse will undoubtedly add to European Jews' feeling of vulnerability," the Jerusalem Post wrote in an editorial titled "Protecting France's Jews."
The English-language daily said that since late 2000, France's Jewish community had "been exposed to the most extensive outbreak of anti-Semitic violence since the Holocaust."
"Due to the rise of both Islamist and right-wing anti-Semitism, France's Jews have grown increasingly uncomfortable," the editorial said.
Israel reeled after the incident on Monday, with several of the victims reported to hold dual French-Israeli nationality, and the country's Haaretz newspaper said the murder could not fail to evoke the Holocaust.
"Many thought that after the Holocaust and the Nazi occupation, French children would never again be murdered in cold blood because of their religion," commentator Sefy Hendler wrote.
"But that's just what appears to have happened."
Writing in the daily Maariv, right-wing commentator Ben-Dror Yemini, criticized international institutions including the United Nations, saying they displayed little interest in the plight of Jews.
"Terrorism continues and is getting worse, but that doesn't particularly interest international organizations, in fact to the contrary," he wrote.
He also warned of growing anti-Semitism in France.
"The problem isn't radical Islam. We can live with that snake and occasionally cut off its head," he said.
"The problem is the support that this hatred has. There's a strong convergence, particularly in France, between the extreme-right, the extreme-left and global jihad on hatred of Israel and the Jews."
Dan Margolit, a commentator for mass-circulation freesheet Israel Hayom, said Israel was inextricably tied to the fate of Jews everywhere.
"The white and blue [Israeli flag] is identified with Jewish blood throughout the world," he wrote, predicting that for some French Jews the incident would push them towards emigrating to Israel or at least putting down some roots in the Jewish state.
"French Jews will wake up, some of them will buy apartments in Israel, though they will remain empty, others who were already thinking of moving to Israel will emigrate," he said.
"Others will invest in reinforcing the security at their schools and Jewish institutions. These measures will be in place for a few months and then for budgetary reasons and after the illusion of calm has appeared, they will be reduced until the next terrorist attack."
Writing in the same newspaper, France's ambassador to Israel, Christophe Bigot, called the incident a "national catastrophe."
"We will not give in to terrorism. Hatred will not prevail. Know that France is more determined than ever to pursue the murderers and bring them to justice," he said.