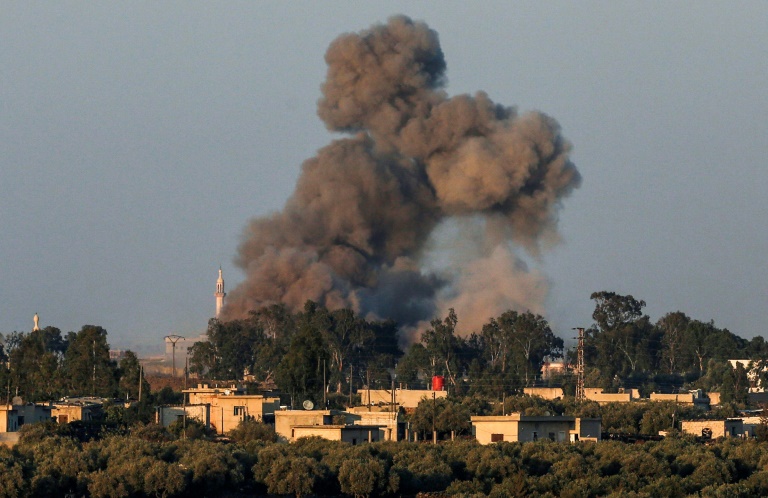 Israel shot down a Syrian fighter jet with surface-to-air missiles on Tuesday after the plane infiltrated its airspace, the military said, in a rare incident that could provoke tensions.
Israel signalled that the plane's infiltration may have been the result of internal fighting in Syria's civil war, but stressed it will enforce the ceasefire lines between the two countries.
"A short while ago, two Patriot missiles were launched at a Syrian Sukhoi fighter jet that infiltrated into Israeli airspace," the Israeli Defence Forces said in a statement.
"The IDF monitored the advance of the fighter jet, which infiltrated about two kilometres (1.25 miles) into Israeli airspace. It was then intercepted by the Patriot missiles."
A Syrian military source confirmed that Israel had fired at one of its warplanes but said the fighter jet had been carrying out operations against jihadists over Syrian territory.
Israel "targeted one of our warplanes… in Syrian airspace," the source said, cited by state news agency SANA. The source did not say whether the warplane had been hit.
It was the first time Israel shot down a manned Syrian fighter jet since 2014.
An AFP correspondent said flames and smoke could be seen rising from the area of the fence between Syria and the Israeli-occupied Golan Heights.
The army said there had been an increase in "internal fighting in Syria," including involving the air force, since the morning hours.
It said it was on "high alert and will continue to operate against the breach" of a 1974 ceasefire agreement between the two countries.
Israel has been stressing for weeks that it would enforce the ceasefire between it and Syria amid a Russian-backed government offensive in the country's south.
Tuesday's incident comes a day after Israel's air defences fired at Syrian rockets it feared could hit its territory.
Israeli Prime Minister Benjamin Netanyahu also met Russian Foreign Minister Sergei Lavrov in Jerusalem on Monday to discuss the Syrian conflict.
All forces must leave
Israel has been on high alert since June 19, when Syrian government forces launched the Russia-backed offensive to retake Quneitra and Daraa provinces, adjacent respectively to the Israeli-held section of the Golan and to Jordan.
Israel has sought to avoid direct involvement in Syria's seven-year civil war, but it has acknowledged carrying out dozens of air strikes there to stop what it says are advanced weapons deliveries to Hezbollah, one of its enemies.
It has also pledged to prevent its arch-enemy Iran from entrenching itself militarily in the neighbouring country.
A series of air strikes that have killed Iranians in Syria have been attributed to Israel in recent weeks.
The strikes have led to condemnation from Syrian President Bashar al-Assad's regime, but Israel has maintained good relations with Russia and has coordinated its actions in Syria with Moscow.
Both Russia and Iran are backing Assad in the civil war.
In Monday's meeting between Lavrov and Netanyahu, Russia offered to keep Iranian forces 100 kilometres (62 miles) away from the Israeli-occupied Golan, but Israel said the proposal did not go far enough.
"We won't accept Iranian military entrenchment in Syria, not near the border, not beyond the 100-kilometre stretch, which by the way the Russians talk about and agree to," a senior Israeli official said, speaking on condition of anonymity.
"We said there are also long-range weapons beyond that distance, and all the forces must leave Syria."
Israel seized 1,200 square kilometres (460 square miles) of the Golan Heights from Syria in the 1967 Six Day war, in a move never recognised internationally.